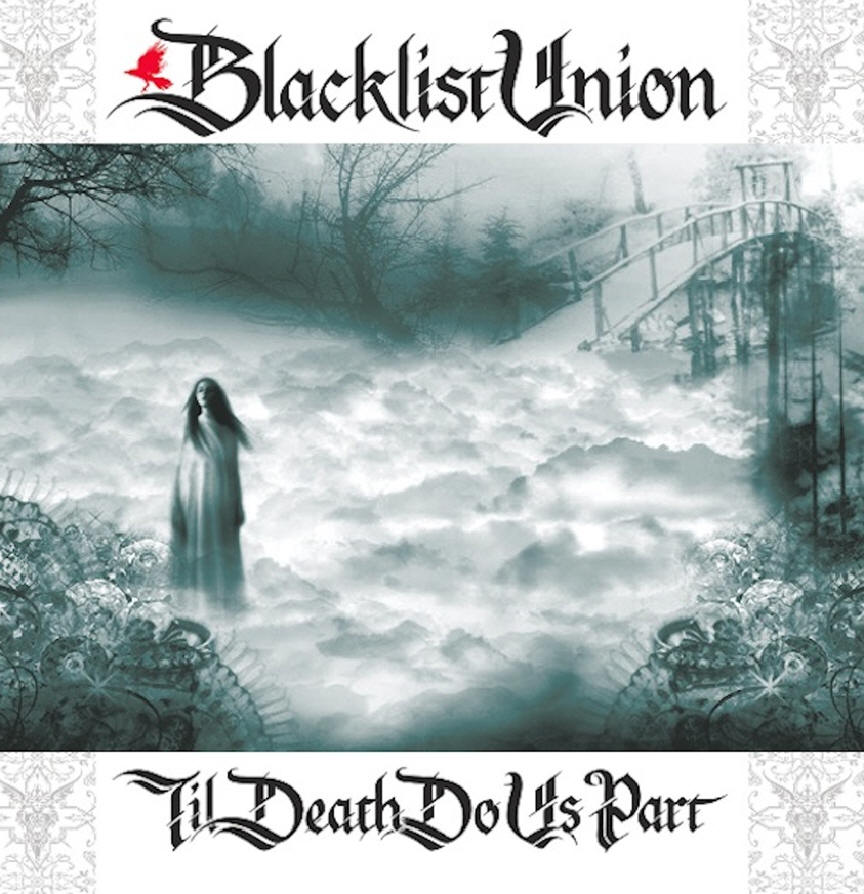 Album Review: Blacklist Union – "Til Death Do Us Part"
The Modern Rock genre can often be a difficult one to review. There is so much material out there that, eventually, everything starts to sound pretty similar. Sure, some bands are much better at captivating audiences than others, but it takes something truly extraordinary to stand out from the pack.
For the bands that don't exactly stand out, they end up being generalized into one of two categories: bands most people have heard of and bands most people have not heard of. For the bands people have heard of, the easy thing to do is weigh their new album against their past material. From there, most listeners will be able to determine if an album is worth their time. If the band being reviewed is relatively unknown, however, the easiest way to convey the style and quality of music is by listing similar acts. If I told you the guitar tone sounded like Metallica, but the vocals were rapped and sounded similar to Eminem, you would likely at least have a rough idea of what to expect when you press play.
I mention all of this because Blacklist Union is still relatively unknown around the globe and their sound can often be somewhat generic, but they are still very good at what they do and worth checking out. Yes, Tony West's vocals often draw comparisons to a young Ozzy Osbourne, but if you aren't a fan of Ozzy, you're an idiot that doesn't mean you shouldn't check this album out. Yes, I could draw comparisons to the sounds of Korn, My Chemical Romance, Seether, Buckcherry, or Puddle of Mudd, but I wouldn't tell anyone who dislikes any number of those bands to stay away from "Til Death Do Us Part."
What I'm trying to say is, you may not know about Blacklist Union now, but they're one of those bands people are going to be drawing comparisons to a few years from now. They may not ooze originality, but they've got the look and the talent to excel in a genre of wannabes.
Getting their start in 2004, Hollywood native Blacklist Union is actually on their third record, but with the team pulled together for "Til Death Do Us Part," they're finally on the verge of a breakout. To help with the songwriting, Blacklist Union enlisted the services of Anthony Valli who most people know as a member of the band Crazytown (of "Butterfly" fame). Then, on the recording side, members of Saliva minus Josey Scott, and Hunt Sales, who has played with everyone from Iggy & the Stooges to David Bowie, all added their hand to the mix. Finally, with producer Chris Johnson pushing faders and turning knobs for the band, it's no wonder "Til Death Do Us Part" finds the band at the top of their game.
Opening with the title track, Blacklist Union starts strong, giving listeners a catchy hook right off the bat. Although the backing instrumentation can get a little cloudy at times, the track begs to be heard in a live setting. For Blacklist Union to really start pulling in long term fans, the live concert is where they'll need to truly excel, but an album that leaves listeners wanting to hear the music in person is a great way to start. Until the date on your ticket arrives, however, the best places to hear what this band brings to the table are on the tracks "Alabama Slammer," "Game Over," and "Don't Change."
"Alabama Slammer" follows "Til Death Do Us Part" with significantly more clarity between instruments while still offering up another captivating chorus. It borders on the edge of punk and pop rock which may turn off some listeners, but the Wolfmother quality of "Game Over" and the classic punk rock sound of "Don't Change" prove Blacklist Union have plenty of tricks up their sleeve for fans of nearly any kind of rock.
Blacklist Union may not be a household name just yet, and it's possible they never will be, but after playing "Til Death Do Us Part" from start to finish, I wouldn't bet against them.