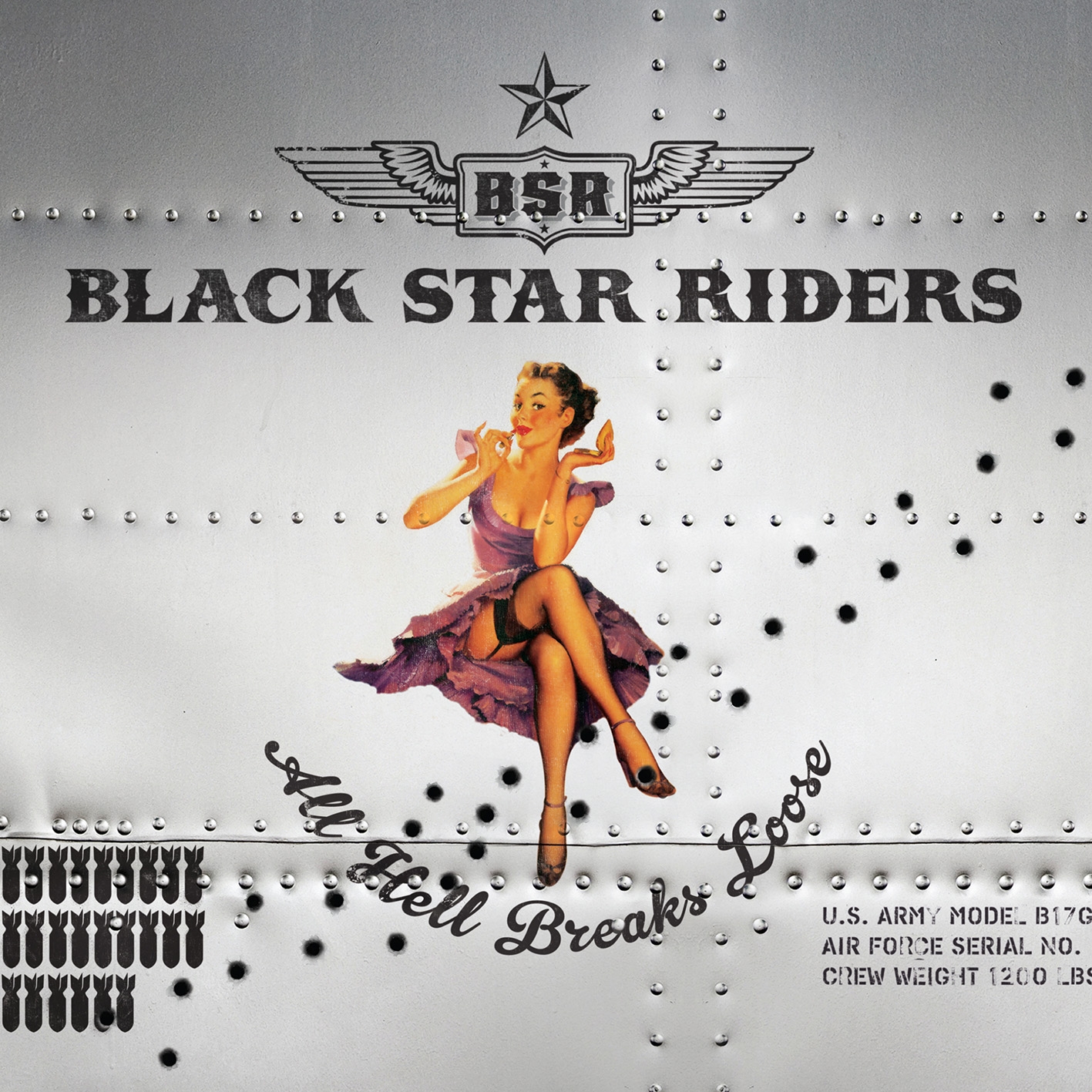 Album Review: Black Star Riders – "All Hell Breaks Loose"
You've all heard of Thin Lizzy. With hits like "The Boys Are Back in Town" and "Jailbreak," Thin Lizzy has been in heavy rotation on every Classic Rock radio station since the beginning of Classic Rock radio stations. Many of you have probably even seen Thin Lizzy live in concert despite the band's last studio record, "Thunder and Lightning," recently turning thirty.
The main reason Thin Lizzy has not released any new material is that Phil Lynott, the band's main songwriter, lead singer, and bassist, died in 1986. That hasn't stopped longtime guitarist Scott Gorham from touring with the band ever since, of course, but they have avoided trying to release any new material until now. Out of respect of Phil Lynott and Thin Lizzy's oldest fans, however, using the band's name for a studio release couldn't be done and thus Black Star Riders was born.
Black Star Riders is essentially the latest touring lineup of Thin Lizzy, but the Rock 'n' Roll resumes of everyone in the band are all impressive. With ties to The Almighty, Alice Cooper, Ted Nugent, Megadeth, Whitesnake, and Ozzy Osbourne, among many others, it should come as no surprise that "All Hell Breaks Loose" is a bit heavier than most of Thin Lizzy's early material. Complementing this heavier approach is legendary producer Kevin Shirley who has worked with everyone from Led Zeppelin and Iron Maiden to Aerosmith and Journey. Together, Black Star Riders is impressive on paper, but it's the sound that's important.
Opening with the title track, Black Star Riders seem determined to form their own identity. The two guitars panned to opposing ears for the occasional flourishes offer a tip of the hat to Thin Lizzy's formula, but for a group that has spent time together touring as Thin Lizzy, "All Hell Breaks Loose" opens with the least Thin Lizzy track on the entire record. Instead, they fall somewhere around a slightly darker Bon Jovi.
It doesn't take long for Black Star Riders to jump into the Thin Lizzy mindset, however. "Bound For Glory," the album's premiere single, has a ton of that classic vibe. With classic guitar harmonies and Ricky Warwick doing his best Lynott impression, "Bound for Glory" would easily fit in on a '70s Thin Lizzy record. Further along the album, "Hey Judas" performs many of the same tricks. Thin Lizzy fans may even find both tracks sounding familiar. Although a lot of fans were skeptical of what Gorham and company would be able to pull off, "Bound for Glory" and "Hey Judas" are the tracks that will put all doubts to rest.
Although the current lineup is a lot more American now, Warwick, the main lyricist for this record, was born in Northern Ireland. To bring back more of the band's original heritage, "Kingdom of the Lost" incorporates an Irish folk tin whistle into the mix alongside the same elements that gave "Bound for Glory" a familiar feel. The result sounds somewhat like a marriage between Thin Lizzy and Dropkick Murphys.
What makes "All Hell Breaks Loose" as impressive as it is are the number of styles they are able to blend together while remaining worthy of being played during a Thin Lizzy concert; the ultimate goal, I'm sure. Blues, folk, metal, and even punk all intertwine with each member's past projects making little appearances. As listeners journey through each of the album's eleven tracks, the collaborative effort that went into this release shines brighter and brighter, but it was all clearly done with Lynott's legacy in mind.
"All Hell Breaks Loose" essentially picks up right where 1983's "Thunder and Lightning" left off. Sure, there are heavier and more modern-sounding moments, but that classic Thin Lizzy sound still bleeds through. It might not quite be Thin Lizzy without Phil Lynott, but Black Star Riders is as close as it gets. Phil would be proud.