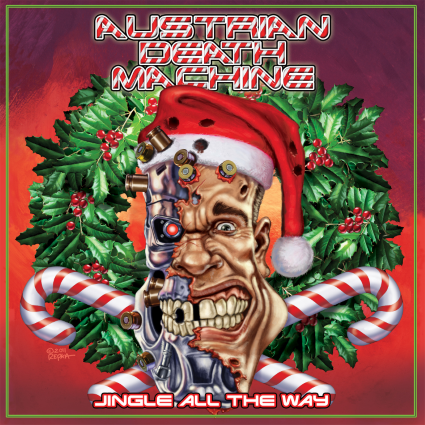 Album Review: Austrian Death Machine - "Jingle All the Way"
Bing Crosby. Andy Williams. The Mormon Tabernacle Choir. Mannheim Steamroller. The Trans-Siberian Orchestra. Austrian Death Machine? One of these names is clearly not in the same ballpark with the others (and no, it isn't the Choir.)
"The Christmas Album" phenomenon is one clogged with genuine efforts and celebrity cash-ins, and it can be especially difficult to discern which one is which. Whether the Pussycat Dolls truly were intending the spirit of Christmas when they sang "Santa Baby" or whether Bing had his heart in the eternal version of "White Christmas" are questions that we as consumers can't really answer.
Accepting that fact, we are faced with "Jingle All the Way" a "Christmas Album" featuring one-dimensional Schwarzenegger send-up Austrian Death Machine and its one-man army of As I Lay Dying's Tim Lambesis. Nominally based on what the press release says is "the ultimate holiday movie," (take THAT, Jimmy Stewart,) this three song EP takes quotes from that film and spins them in the style of Lambesis' band.
"Jingle All The Way" functions just fine as a three-cut EP, but it feels a little cheap considering that the last cut "Who Told You You Could Eat My Cookies" is actually a re-cut from the "band's" first album that's simply been re-tracked for 2011.
Aside from that, these songs are enjoyable for what they are. The other two cuts are simple, overdriven affairs that fulfill Lambesis' long-ago promise of being high on testosterone and high on stupid. His tongue (or Ahhnold's tongue, as the case may be,) is lodged firmly in cheek, not to be removed or considered. The section at the end of "Turbo Man" where Ahhnold demands of the guest guitarist "You forgot to play the solo! Play it now!" is humorous, and at least, honest.
Is "Jingle All the Way" worthy of your holiday party? Maybe, maybe not, but that's as much a product of its nine minute run time as it is anything about the music. In certain circles, this EP will make the rounds and be greeted with the commensurate amount of applause. And to be honest, it is deserving of that attention, even perhaps for those among us who are not fond of As I Lay Dying.
So, spend a little time with "Turbo Man" and "Jingle All the Way" this holiday. After all, it's only ten minutes.
As a non sequitor, one can only wonder if the ArnoCorps will produce any kind of response to this newest ADM effort, particularly in the style of a Christmas album. It seems odd that we live in a world capable of supporting two Arnold Schwarzenegger parody/homage bands, but then, we live in a world that at one time supported multiple (repeat, multiple) "Jar Jar Binks Ate My Balls" websites. Oh, the fickle pulse of pop culture.
*Note - This single/EP is a digital download only, with a limited edition 7" vinyl available for purchase. Cut 3 about the cookies appears only on the vinyl.