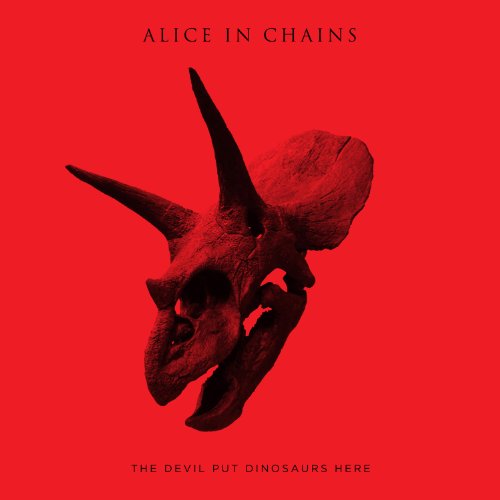 Album Review: Alice In Chains – "The Devil Put Dinosaurs Here"
Following the death of lead singer Layne Staley, Alice in Chains went on an elongated hiatus. Very few bands have been able to survive the death of a lead singer, but 2009's "Black Gives Way to Blue" put all doubts to rest and proved to the world that there was indeed life after death for the Seattle-based grunge band. With the "comeback album" now behind them, "The Devil Put Dinosaurs Here" seeks to prove Alice in Chains' ability to endure in a music scene very much removed from 1990 when "Facelift," the band's debut studio album, was released.
Like "Black Gives Way to Blue," "The Devil Put Dinosaurs Here" plays a little more like a Jerry Cantrell solo album than it does a classic Alice in Chains record, at least in mood. For those who don't know, Jerry Cantrell is Alice in Chains' lead guitarist and key songwriter so the differences are not significant, but still easily detectable for longtime fans of Alice in Chains. The guitars still bend in and out of dissonant chords at a slow pace for most of the album's twelve selections, but "The Devil Put Dinosaurs Here" never feels as dark as classic Alice in Chains always did. Much like Jerry Cantrell himself, William DuVall, Alice in Chains' replacement for Layne Staley, doesn't capture audible anguish the same way that Staley was able to, but his cold, detached delivery works wonders for the sinister harmonies the band creates.
Alice in Chains kicks off their fifth studio album with "Hollow," a gloomy track packed with the band's signature unsettling harmonies. Although the track's mid-tempo strut has always worked for the band, as one of ten songs on the record to exceed five minutes, many selections on "The Devil Put Dinosaurs Here" begin to drag for the listener before their conclusion. The next two tracks, "Pretty Done" and "Stone," the two shortest songs on the album, make such use of repetition in the instrumental groove behind the vocals that many casual listeners will be tempted to skip ahead. Fans of the band's past work will likely have an easier time digesting the drone of guitars, but it's equally easy to reminisce back to the band's glory days.
Despite some early shortcomings, however, "The Devil Put Dinosaurs Here" truly shines when the members of Alice in Chains takes a step out of their comfort zone for something a little more progressive. "Scalpel," for instance, brings back the acoustic tonality of their underrated third record, "Jar of Flies," and focuses more on a straight vocal melody. There's even a beauty and sweetness to DuVall's voice on the verses, something Alice in Chains isn't typically accustomed to, but it works well here. Alice in Chains may not usually be a melody-focused band, but songs like "Scalpel" and "Low Ceiling" will surprise fans and leave them craving more.
There's something for every "Alice in Chains" fan on this record except another Layne Staley vocal. Anyone craving Cantrell's dark, yet melodic instrumentation will thoroughly enjoy "Voices" and the closing number "Choke," while those hoping for something a little heavier will love the metallic "Phantom Limb." They may never be able to replicate their classic '90s sound, but "The Devil Put Dinosaurs Here" finds Alice in Chains ready for the next generation of listeners.