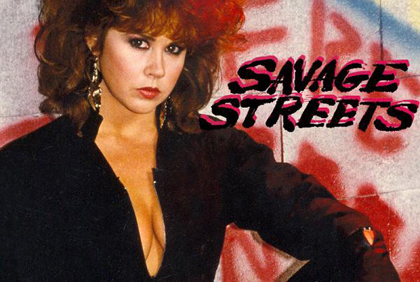 42nd Street Forever: Volume 3
Jeez…to be a fan of grindhouse trailers in this day and age is truly an embarrassment of riches. Hot on the heels of the successful last volume, the gang at Synapse is back with another collection of fun b-movie trailers that encompass every –ploitation in the book. Even better, there's barely any 60s b-movie fluff; volume three has a lot of intriguing mid-to-late 70s/early 80s fare, a lot of which was put out by major studios! It's also so much more satisfying to see a studio misfire than a typical, run of the mill no-budget any day. At least I think so. Some of the highlights of this volume include…
● In the EXORCIST rip-off BEYOND THE DOOR, pregnant mommy Jessica floats across the room, causes a plate of cookies to fling into the ceiling and has her kids' drawer open and shut, all hurdy-gurdy and playful-like! Looks like Satan's a fan of MARY POPPINS. Just a spoonful of brimstone…
● The rich kids don't like Carrie, um, I mean JENNIFER too much, teasing her with horrible taunts like "They only give scholarships to outcasts!" Ouch! Luckily for her, Bert Convy is there to stick up for her. But, it's too late as her destructive, low-budget telekinetic powers soon develop and she gets her revenge. Which means flipping over a car.
● Ants take over the world in PHASE IV, a movie I have been dying to see for years (c'mon Paramount—put this on DVD!) that was directed by style-god Saul Bass.
● With a title like KILLER FISH, is there anything else you need to know? How 'bout that it stars Lee Majors as a crook that throws a bag of loot into…wait for it…waters infested by killer fish! Sold!
● In the 70s, when you needed some quick cash, all you had to do was get your hands on some disco music, a box of t-shirts and a gaggle of busty chicks willing to let you pour cold water all over their chests. Money on the bank, right makers of HOT T-SHIRTS?
● "California students mature early", apparently, so I guess that makes it okay for them to sexually harass the teachers—THE SUMMER SCHOOL TEACHERS, that is! So what do these liberated minimum wage educators do for revenge? Start an all female football team! Fun!
● First off, I love the selling point of "Cool Beds, Hot Nurses!" for NIGHT CALL NURSES. But, even better, I love the fact that they are throwing bundles of dynamite out of a moving semi-truck! Is that even covered by the HMO?
● Adam West classes up THE HAPPY HOOKER GOES HOLLYWOOD, where, in a meta turn of events, the Happy Hooker, Xaviera Hollander, goes to Hollywood to make a movie called, you got it, THE HAPPY HOOKER! And she brings actual whores and Phil Silvers with her!
● Ever wanted to kinda see Connie Stevens somewhat nude? Me neither, but the makers of SCORTCHY couldn't give a flying flip! They've got her all sexed-up and parading around as a private eye who always gets her man. I haven't been so intrigued by a female PI since VI WARSHAWSKI, and we all know how that turned out.
● Those nogoodnik stereotypical 80s punk rockers are up to their murder'n'rape shenanigans, that is until Linda Blair, as a 30-year-old high school student who takes the law into her own pudgy little hands in SAVAGE STREETS, the most savage of all streets!
● Jerry Reed lovingly typecasts himself as a redneck trucker in HIGH BALLIN', were he teamed with a low slummin' Peter Fonda. Honky tonks, smokeys and the stink of Schlitz are all over this flick. That's a 10-4!
I absolutely love this series and honestly could never get tired of them. Nine times out of ten the trailers are better than the actual movies anyway, so really, you could look at this as the greatest movie marathon in the world, all on one disc, with no sticky floors or threat of getting stabbed! So keep it up, Synapse, and you'll have a lifelong fan.