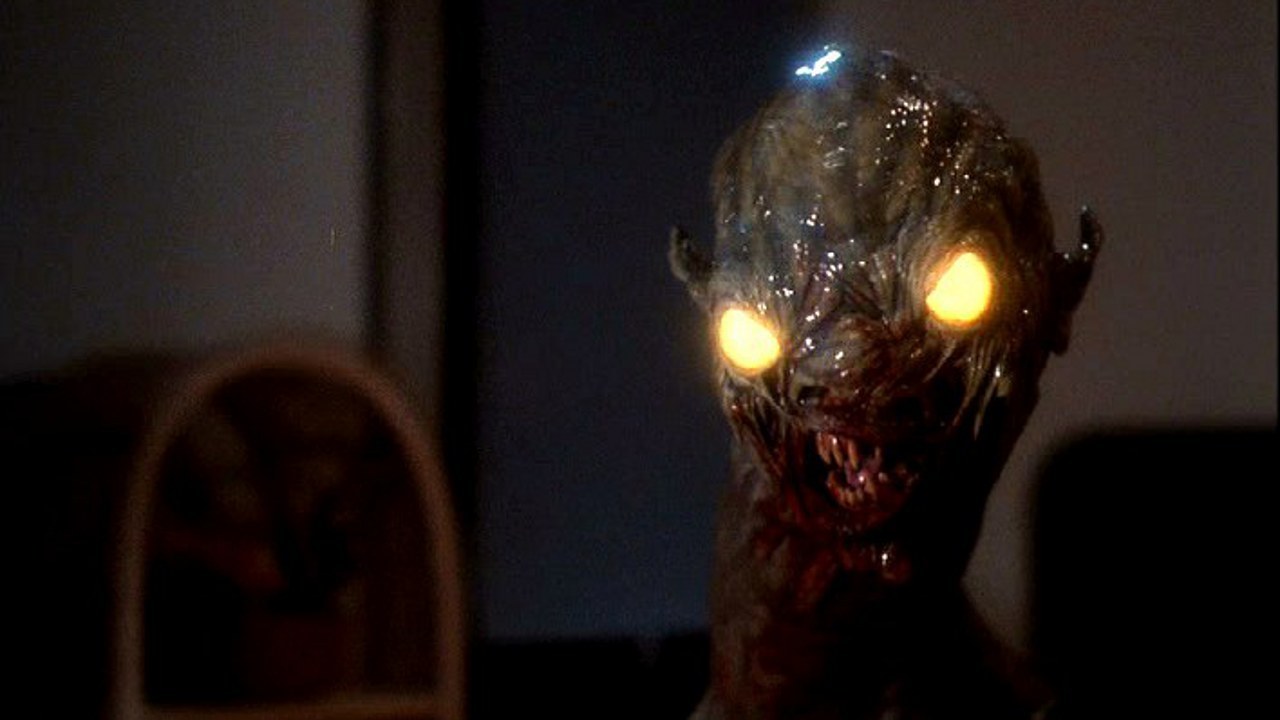 31 Days of Horror - Day 13
It's October, as we all know. A time for scares, a time for chills, and a time for pumpkin spice flavored everything. I'd like to change things up for this, the thirteenth day of the "31 Days of Horror" and say that this month has something else in the air; love. Sure, I know you're looking at me funny right now, but it's true. A love of horror movies and all things scary can be a solid backing for the start of a long lasting relationship. It's not even the whole "she'll get scared and want to be held" stuff either. Though that does come into play, but I'll get to that later.
These past few years, I've known a few couples that have taken shape at a local horror convention. Some are lasting, some aren't, but they all started with the initial spark of something similar; a shared interest in things that are weird, scary, and often times cheesy. Common interests are always important to any relationship and when you can both sit down to sink your teeth into a movie that you both are excited about? It's a good feeling. It's a feeling so good that it helped lend itself to finding my own partner in crime over the years, and has allowed us to have a life full of memories surrounding our vaguely macabre hobbies.
This past Saturday, October 11th, I celebrated my 17th wedding anniversary with my wife Colleen. It was a good day, we had a lovely dinner and had a nice night out. Though it was a 17th wedding anniversary, we've been together a good 21 years at this point, and it all started with a horror movie. Mind you, our entire life isn't horror; it's played a significant part though. It's a genre that we were both able to joke about and snuggle in to watch late at night when we didn't have much money to do anything else in the early days, and it opened the door for conversation on that first night that we met so many years ago.
Our first date was to see Stephen King's "Needful Things", when it was brand spanking new. We were in college in those days and I'll be honest; I was clueless. It worked out well to go see a horror movie though, as it provided Colleen the opportunity to play scared so that I'd hold her hand. Because, you know, I didn't know I was supposed to hold her hand on my own. Remember? I said I was clueless. It opened the door to a common interest that we would both enjoy together over the coming years. From there, she introduced me to the "X Files" that became a regular viewing ritual. Later, we introduced each other to our own favorites from the past, both of us finding new things to enjoy in the process. It wasn't always agreeable either. Where I was always a Jason Vorhees kind of guy, she was always a Freddy Krueger kind of girl first and foremost with a heavy penchant for Michael Meyers as well. These differences at least lead to fun debates and we still celebrate the October Holiday with a "Halloween" marathon all the same. Over the years, our love of horror movies was always there. When I decided to become a blogger and started Cinema Fromage, Colleen was right there with me. She'd sometimes watch the movies and sometimes, she'd write reviews of her own. We even ran our own podcast for a time, called Midnight Muenster! We've had a lot of fun with horror movies and we plan on having a lot more!
These days, she doesn't have quite as much patience for some of the crap I watch, but that's okay. She's always at my side when we head out to the theater for the BGH Podcast and she always has valuable input to help form my own thoughts for the show. Colleen attends the horror conventions with me when she can, having a blast go through art work and old collectibles. Together, we've made sure to instill a healthy appreciation in horror movies for our own daughter. With it, we've ensured that she knows firmly that the films are entertainment and are to be taken as such, and now, she enjoys it all with us as well. Every year, Halloween is an event at the Criswell house, where we combine forces to scare neighborhood children and make sure to have the stand out house on the block. She's the creative power behind it all, with the decorations and planning, without her it would just be me jumping out of the bushes. She's the creative ying, to my boisterous yang, and together we make a partnership that's plowed through many aspects of horror over the years, and I wouldn't trade it for anything!.
While it's important to keep October Scary, it's also important to remember it can be a good time to find somebody with common interests, and maybe make a connection that turns into something special! Is my little story not enough proof that love is in the air for Halloween People? Just check out the gang over at Night of the Living Podcast! That show's got two of the best couples we know, and they love horror flicks just as much as the rest of us.
Keep your head up chum, if you're feeling a little lonely. There just might be a special boy our ghoul for you out there as well! When you head out to the cons, remember to wear your best smile and don't be afraid to say hi if somebody happens to mention that limited edition "Freddy Vs. Jason" poster you just bought! Do remember to always be polite though, and don't be pushy. If somebody says no thanks, they mean no thanks. But, if you happen to ask who their favorite special effects artist of the 80's to current day is and they answer "Greg Nicotero", well then, you might just have a new friend!
C.H.U.D.
Who can deny the classic status of C.H.U.D.? Nobody can! This 1984 Monster classic is labeled as a John Heard flick, but we all know the real star here is Daniel Stern. The movie was a bit kookie and very early 80's, but it actually holds up really well. There's a few tense moments, but the fear facor isn't super high. The story is top notch though as is the monster work. If you'd like to hear what the whole podcast crew thought of this one, be sure to check out Episode 25 in your Classics section, it should be a hoot! (Also, really old!)
The Co-ed and the Zombie Stoner
Now, I feel weird saying this but...this Asylum attempt at a horror comedy? I didn't hate it. I know, weird. There's a decent story in here and some good jokes. I stress some; this movie gets a bit long in the tooth at times. There's worse things to watch on Netflix in a late night drunken stupor.
The Town That Dreaded Sundown
For years I had seen the original director and screen writer for "The Town that Dreaded Sundown" at various Horrorhound Weekends, and I always thought I'd seen this flick. As it turns out, I was getting it confused with "Dark Night of the Scarecrow". So, once I got over the disappointment that it wasn't that old Charles Durning joint, I found out that the "Town that Dreaded Sundown" is actually a pretty solid flick! It's got a weird Disney Movie vibe from their days of doing Saturday Night TV movies, but it still works. I think it's the voice over that does it. The story, loosely based on a real one, still manages to be pretty chilling. Our big bad is pretty compelling, and an obvious influence over Jason Vorhees in "Friday the 13th Part 2". So there's that. It's also recently added to Netflix Instant Watch, so if you're like me and haven't seen this...get on it!
You're Next
Back in Episode 263 of the BGH Podcast, I was pretty outspoken against "You're Next". I found it to be pretty predictable, twists and all, and not really adding anything new to the genre. This weekend, I had some time to kill and figured I'd give it another shot since it's turned up on Netflix Instant Watch recently. I don't do this often, but you know what? I think I was wrong. This second time through, I found the movie to be pretty solid. I still wouldn't say it was great, but it works well as a home invasion style movie. It was still predictable, but it didn't matter as much as this time I was able to get more into the characters, I think. Sharni Vinson seemed pretty effective this time around and for whatever reason, I dug her little origin story, what there was of it. So mark your calendar's, I'm actually admitting I'm wrong! I liked "You're Next"!