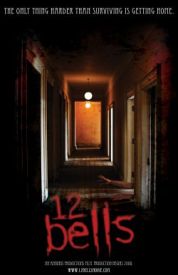 Let's play a fun game. Hop on down to the bottom of the page and watch the trailer for "12 Bells" and try to figure out what the hell is going on without reading the film's description. Go ahead, I'll wait.
Still confused? Me too but I have to say the film looks pretty interesting. At the very least it looks like a bunch of freaky crap that will give my wife nightmares. But if that isn't enough here's a little more info.
A diverse group of apartment dwellers unsuspectingly become trapped in a parallel dimension of disparate doors. While most are merely acquaintances at the outset, the group is thrust into a maze of hallways and rooms only to be separated by the mystifying element of each doorway. As they struggle to reunite and find their way, they encounter a myriad of macabre and often manic beings who threaten their life with false hope and violent sadistic behavior.
The film is being written and directed by Erik Soulliard and is the follow up to his 2007 film "The Creek". No release date is set for "12 Bells" yet but production is looking to be wrapped up in the early fall.