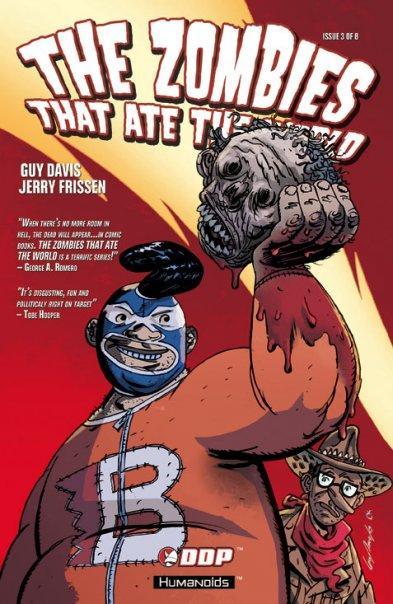 "Zombies That Ate The World" Lands in the US
Fans of the Lucha Libre comic series should be quite tickled to find out that writer Jerry Frissen's other comic series "Zombies That Ate The World," has also been translated from Froggish to English, and is available stateside right now!
Via Muttpop:
Our beloved Jerry Frissen's other comic book series, ZOMBIES THAT ATE THE WORLD, is currently being released in English by Devil's Due. Issues 1-3 of the 8 issue miniseries can be found in stores now. Jerry's hilariously twisted take on a zombie filled future is illustrated by Guy Davis. Guy Davis is an amazing American cartoonist whose comic pages bring life to vivid worlds. Guy Davis has done some amazing art on comic series like HELLBOY'S BPRD, THE MARQUIS, and SANDMAN MYSTERY THEATRE.
The story, while possibly a bit cliched, provides plenty of opportunity for cheeky zombie-laden fun:
Zombies picks up in the year 2064. Knowing full well that it can't dispense with the rising number of the undead, the U.S. government implements a new policy allowing zombies to dwell amongst the living. Naturally, this "plan" doesn't go so well.
I have a love-hate relationship with things zombie related, but I'm a huge fan of Jerry's writing, and the art style on these comics reminds me a lot of what I enjoy about the Lucha Libre series, even though it's drawn by someone outside of the usual roster of artists. If you're a fan of zombies and comics, why not pick these up?