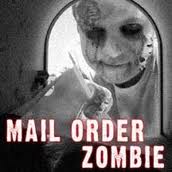 Zombie fans, be sure to nominate your favorites for the 2011 Dead Letter Awards!
Long time friends of ours, BrotherD and Miss Bren over at the Mail Order Zombie Podcast have recently come back to us after their hiatus! Along with the return of their show, they're preparing for their annual Undead Award Show, the Dead Letter Awards!
If you're a die hard zombie fan have watched a lot of the new releases in the zombie world, now's your chance to for this years awards! The show covers zombie media from all walks of life including movies, books, video games and more. The stipulations: it must be zombie, and it must have been released in 2011!
If this sounds like something right up your alley, be sure to head over to the official nomination form (link opens a google Doc) and cast your ballot before the deadline of February 7th!