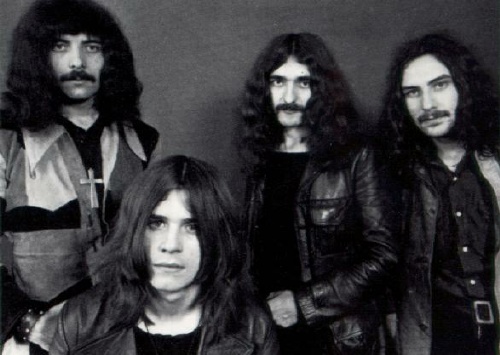 What's Happening in Metal
Bit of a slowdown for metal in the past couple weeks, as the whole community sort of paused to watch Metallica's Hall of Fame induction. Good on them to have both Newsted and Trujillo playing on stage. In the meantime...
- Black Sabbath drummer Bill Ward, in an interview with the Shropshire Star, tells them that nothing is closed with Black Sabbath, and that he would potentially be up for a full-blown reunion tour. Nice to think about, but I have a sneaking suspicion that's all it is. With Tony Iommi and Geezer Butler wrapped up in the impending Heaven & Hell release, and Ozzy working with his wife on a new book/show (and possibly playing World of Warcraft,) seems like Bill is just throwing this out there more than not. Maybe he can get together with Ian Gilliam and have a "sort-of" Black Sabbath reunion.
- Imagine my surprise as I was flipping channels the other night to land on Ring of Honor wrestling, where a fine gentleman was introduced as "Necro Butcher." Hey, wait a sec... that's not the guy from Mayhem at all! Does anyone else realize that his name is completely and totally stolen? Turns out, the wrestler Necro Butcher is the same guy who gets cash stapled to his head fighting Mickey Rourke in "The Wrestler." Small world.
- Papa Roach's album "Metamorphosis" debuted at number 8 (!) on the Billboard top 200. Really? I've got to say I'm mildly shocked. In any event, they're currently on tour with Buckcherry and Avenged Sevenfold.
- I realize that I'm way behind the curve on this, but I finally sat down with Acrasicauda, the subject of the documentary "Heavy Metal in Baghdad." As the only Iraqi metal band in existence, I had to see what all the ruckus was about. This is going to come out sounding meaner than I want it to, but they don't suck. If you've got ten minutes, give 'em a shot.
- Finnish band Thunderstone has pushed back their album to September, which is an awfully lengthy delay.
- Aerosmith is pushing back what was already a tentative release date for their upcoming new album, citing health concerns. In better news, they're going to be touring this summer with ZZ Top, and already have forty North American dates scheduled before possibly jumping the Pond.
- Just released online, the first two episodes of AC/DC's serialized documentary "Rock N Roll Fannation" are available. Really, they're kind of just lip service for the band, but are still fascinating to watch.
- Leaving with this; Tom Morello's "The Justice Tour" has been in the practice of inviting local musicians to perform at each show. So, in Seattle, Tom invited Soundgarden's Matt Cameron, Ben Shepherd and Kim Thayill to come up on stage. Together, they performed (with Morello and TAD frontman Tad Doyle,) a number of songs, including what you see below:
Live Loud.