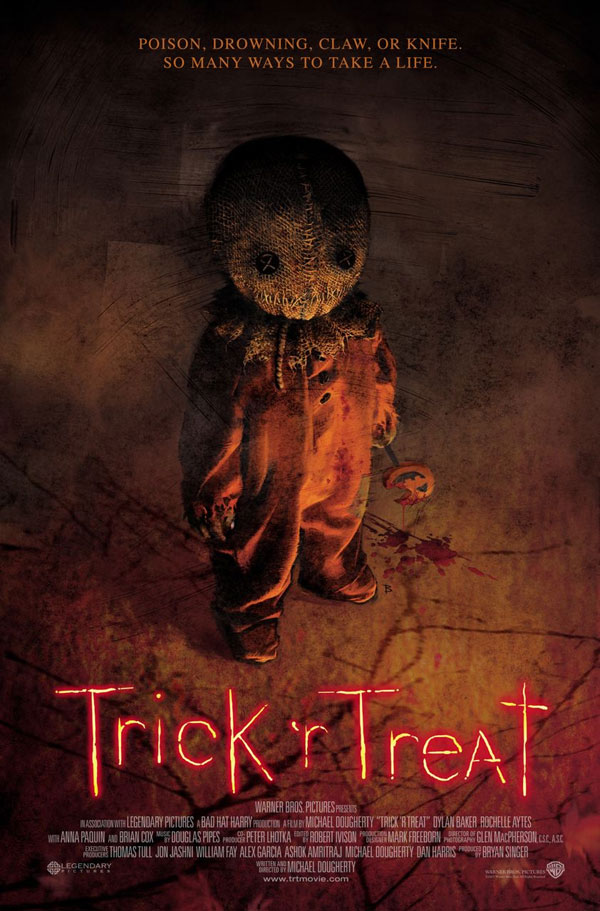 Trick 'R Treat Finally on DVD?
I can't think of a single film that's currently being kept out of horror fan's DVD players that's more wanted than Mike Dougherty's "Trick 'R Treat". Doughertry, who wrote both "X2" and "Superman Returns", has recieved great feedback from the few screenings of the film, but still no love from Warner Bro's, the studio currently holding the rights to it. It has gone through multiple release dates and restarts, but here we sit nearly two years later with no word. There's something interesting being reported today that may signal a change to all that. On a forum post about WB DVD deals (taken from a press release), "Trick 'r Treat" is mentioned among a list of DVD's eligible for the promotion. Here are the details:
he Offer: Buy five (5) participating United States and/or Canadian Warner Home Video Blu-ray Discs™("Participating Titles") at any retail location in the United States or Canada to qualify to receive one (1) FREE (plus shipping and handling) Warner Home Video Blu-ray disc ("Redemption Title"). Participating Titles must be new, factory sealed Blu-ray Discs, not previously viewed Blu-ray discs. Participating Titles and Redemption Titles are listed below and are subject to change and availability.
PARTICIPATING TITLES (subject to change and availability):
Yes Man
He's Just Not That Into You
Inkheart
Gran Torino
Mr. Troop Mom
Friday the 13th
The Cell 2
17 Again
Observe & Report
Watchmen
Ghosts of Girlfriends Past
My Sister's Keeper
Hangover
The Orphan
Trick r Treat
Preacher's Kid
Shorts
Harry Potter and the Half Blood Prince
Four Christmases
Terminator Salvation
Jonah Hex
Whiteout
Final Destination 4
The Informant
Ninja Assassin
300 UCE
Wizard of Oz UCE
Lord of the Rings Trilogy
Gone with the Wind
Green Lantern
Superman Batman Public Enemies
Scooby-Doo The Beginning
How the Grinch Stole Christmas
Horton Hears a Who
Charlie Brown Christmas
Lord of the Rings (Animated)
Star Wars: Clone Wars S1
It may not be the theatrical release that it could possibly deserve (let's be honest, none of us have seen it), but at least it's something. Many films get released straight to DVD these days and go on to be very successful. It may not be what the writer of "X2" had envisioned with his passion project, but sometimes you have to take what you can get. Check the trailer below.