The Veer Union / Black Stone Cherry concert review
In the history of my life, I am often skeptical when someone tells me "You gotta check out this band!" Too often I am sorrowfully disappointed. Some of this is my own doing; I have become very particular about the music that graces my various stereos. Still, in my unyielding desire to procure a collection of the best music ever made, I invariably give whomever the target band is a shot.
So, when one of my Agents In The Field advised me that I might check into The Veer Union, an upstart outfit out of Vancouver, I was mildly leery. Not too long after that, I was advised by a second Agent In The Field to direct my attention to Black Stone Cherry. Again, leery.
But low and behold, there they both were, playing in concert near my hometown. So armed with an open mind, there I was, standing in attendance with a sold out crowd (more on that later.) I arrived at the venue at roughly 7 PM sharp. At 7:01, The Veer Union took the stage.
Not to kill the suspense, but this was one of those shows where the first band up was the best band up, hands down. The Veer Union fairly attacks their songs, bringing a strength and vigor to the stage usually reserved for much heavier fare. The band successfully creates a sound that is recognizable and accessible, but also just unique enough to stand out. They are most commonly compared to acts like Buckcherry or Hinder, but there's a superior element in The Veer Union not found in their counterparts. I can't put my finger on it; it's like they took the established formula and studied a lot of old Pearl Jam or Stone Temple Pilots or something.
Their songs are a wall of sound; everything is thrown at the listener, and is played with the honest passion of men who love their work. Personality wise, The Veer Union is maybe a touch boisterous; but I would rather that than have the band be too timid to make an impression. In any event, they appear humble enough to understand that there's work to be done before they can call themselves the torchbearer for rock and roll. And they have some growing to do; the mantle they're trying to assume is just plain too massive for them right now. Still, the talent is there, the potential exists, and I'm optimistic that The Veer Union might be mentioned in the same breath as the Foo Fighters someday.
The single "Seasons" is their intended signature piece (WWE fans might recognize it as the theme for Backlash.) Still, each song impressed, the highlights including the thundering "Darker Side of Me." Be wary of "Over Me." It's a little dramatic for my taste, but chicks seem to dig it, so it's not without value. The crowd was both receptive and responsive, giving credit where credit was due as the band ran around on a too-small stage. The only downside was that the band ran out of time and songs to play. I think we haven't heard the last from them, though. This bears noting: Neil the drummer can balance a guitar on his chin. Surreal. They're raw, and will likely never be grouped into the metal genre, but if they can bottle the energy of their live show, The Veer Union could easily make noise in the rock scene.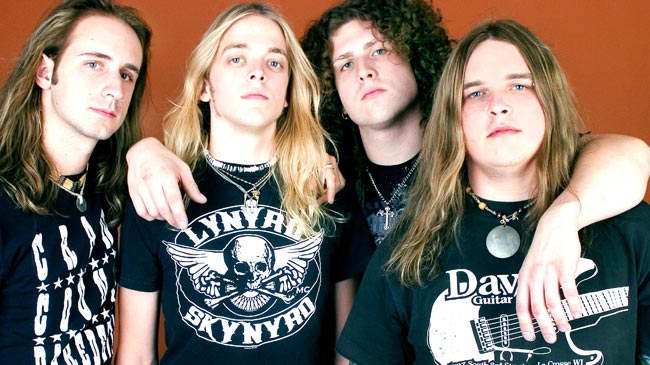 Black Stone Cherry
Then came Black Stone Cherry, and after watching The Veer Union, I think both me and the crowd were under whelmed. I can see the band's talent, but for some reason it doesn't resonate like it should. And not for lack of trying. The band is playing their collective heart out, but the pageantry doesn't make up for the lack of a signature pop. Think of Black Stone Cherry as a poor man's Screaming Trees.
On stage, they made you take notice a couple times, with anthems like "Peace Is Free" or "Please Come In," but the hits were broken up by periods of just plain average rock. I found my mind wandering to other things as I listened and watched, and the songs weren't particularly distinct with the exception of the ones listed. Black Stone Cherry wasn't bad; they just didn't shine with the lights on them.
So, I had seen what I had come to see, and was one for two on the evening, which I was pretty happy about. So, as a bonus, I stayed for the reason the crowd was sold out: Theory of a Deadman. Make no mistake; I am not a fan of them. But I figured, oh, what the hell. They're a high energy act, maybe they'd be worth seeing.
If Black Stone Cherry was passably average, Theory of a Deadman was plain boring. For a band who claims to be the heir apparent to in-your-face hard rock, the lack of movement (i.e., mosh pit) from the crowd was somewhat disturbing. Didn't help (and this isn't the band's fault,) that I was standing next to a man who appeared to be the leader of Theory of a Deadman's fan club. You've all seen that guy who laughs at all the lead singer's little jokes, boasts loudly about how good the band is, and is generally an annoyance to every living thing within fifteen feet.
I admit that I find the band's hit "Hate My Life," somewhat amusing, so I enjoyed that for the three minutes that it took up. Other than that, the band was shrouded in a blinding light display clearly meant for a larger venue, and did nothing to make me really take notice. They played their hits and got off the stage, and I was no better or worse off for the experience.
So yeah, The Veer Union was a bright spot. Whether their recorded sound stands up to their live show remains to be seen, but I tell you that the live show is pretty damn good. After the first act, there's not much to tell.
So here's my idea: A joint tour with East Canada versus West Canada. Montreal's Blackguard and Priestess can take on Vancouver's Annihilator and The Veer Union, and after all four sets, the fans will win.