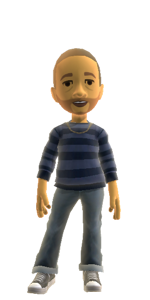 The New XBOX Experience: First Impressions
Anyone that has listened to the podcast in the last few months has likely heard me continuously mention the new Xbox Live Experience. This new update promised many things such as cutesey, Mii-like avatars (pictured) and the ability to install games to the hard drive, but I was truly excited about a slightly less-mentioned feature, a steaming Netflix app. As with any highly-anticipated tech event, there are about as many things that lived up to the hype as those that did not.
The Good
It LOOKS Good - As far as computers and aesthetics goes, I'm undoubtedly a Mac guy. I like my interfaces smooth and shiny, yet economical and not overly flashy. Someone from Apple definitely leaked a copy of their design standards to the NXE team, because this new interface is very Apple-y, and to me, that's a very good thing.
It's FAST- One of the most notable, yet rarely mentioned features in this update is the streamlined loading of content. Before, when browsing the marketplace or even your own games, things would tend to show up intermittently, which put a real damper on the navigation process. Now, things show up all at once in a very smooth manner. It seems small, but it makes a huge difference.
Installing games - My Xbox can sometimes sound like a NASA shuttle taking off. Installed games run quieter, if totally silent. Period.
The Not-So-Good
Avatars - I'm not saying that the avatars themselves are not so good, because honestly, I have weird soft spot for these sort of customizables. However, I resent the fact that I couldn't change the color of my clothes or remove the stupid chain that's associated with the shirt I chose, and for that, I will be forever bitter. Changes are promised, and I will await them with far more anticipation than anyone should be affording to that sort of thing.
Ads - Although the interface is slicker, it's now harder to differentiate between ads and content related to your console. This becomes especially awkward when you're playing a new release, and you're unsure whether or not you're selecting the game itself, an ad, or download content. It really takes a way from an otherwise markedly user-friendly interface.
Netflix app needs work - Understand that in order to run Netflix properly on your Xbox you need to either be wired into an ethernet connection directly or have a blazingly fast wireless connection. If not, you will be subjected to constant picture "readjustment," which often leaves you with the world's tiniest video at "full size," or the world's most pixelated video when stretched to the size of your screen. I don't expect HD video to stream wirelessly with no hiccups but I'd really like to see this app downgrade in a way that doesn't make me want to boot my console out the window. You also can't browse Netflix itself from the app, just view and play from your queue, but I keep a laptop on my coffee table so that's not a huge deal. I wouldn't say it's totally broken and it's probably awesome for people with great connections, but it needs an update to really be worth the hype.
(Shameless shill: Just because things are awkward on the Xbox doesn't mean Netflix isn't worth it. Sign up from our site!)
All in all, I'm very happy with the NXE. There are some features like the dev community that I haven't tried out, but that would just feel like icing on the cake. If Microsoft treated their Windows properties with as much reverence as they did this update, they might not have to make commercials convincing people that Vista isn't a total shit sandwich!