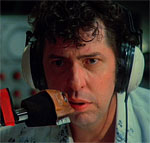 TCM 2's Lou Perryman Possibly Murdered
Sad news today that veteran actor Lou Perryman passed away on April 1st.
Known as a long time collaborator with Tobe Hooper, Perryman was best known as L.G. from "The Texas Chainsaw Massacre 2" as well as behind the camera work on many films such as "Poltergeist", "Texas Chainsaw Massacre", "The Blues Brothers", "Boys Don't Cry" and many others. Perryman has been a long time resident of South Austin, Texas.
To make the situation even more grave, Austin local news has brought forth new information that Perryman may in fact have been a victim of foul play.
A South Austin neighborhood is on edge after police discover a body inside a small home. Now a man is behind bars in connection with that murder, after he reportedly showed up at the Travis County Justice complex with information that led police to the crime scene.
The story does not identify Perlman as the victim, but his daughter has already taken to her Facebook page announcing her father's death, as well as confirmed to the horror site linked above that her father was the victim in the above mentioned story. Nothing is official at this point and no charges have been filed, but all signs are starting to point in the same direction.
We here at Bloody Good Horror take this moment to express our sympathies at the passing of Mr. Perryman and hope for a quick resolution to the ensuing case that has grown around his death, both for him and for his friends and loved ones.