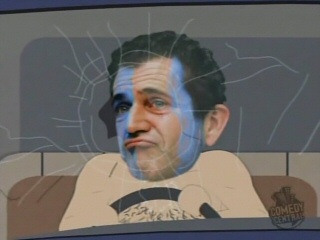 Suicide in Mel Gibson's home not gonna help with the crazy
Via WWTDD
Apparently a worker committed suicide in Mel Gibson's house today. That's pretty fucked up right there, but mainly I just wanted to post this picture of Mel from South Park, so ... mission accomplished. Below are the details from WWTDD.
---
"TMZ says today that a construction worker committed suicide while working on Mel Gibsons home in Augora Hills. The 48 year carpenter hung himself on the site and was discovered by the job foreman.
Mel was not at the house when the body was discovered. A law enforcement source says no one from Gibson's family was living at the house.
...the man who committed suicide on Mel Gibson's property was a construction foreman on a number of movie sets, including "The Matrix Reloaded," and "Dr. Dolittle 2," "Star Trek: Nemesis," and "Karate Kid II."
We're told the victim is Michael John Van Dyke.
Sources say Van Dyke was a long-time friend of the contractor hired on Gibson's property and was going through financial troubles. He had no connection to Gibson.
We've learned Michael went through a messy, protracted divorce a few years ago. People who worked with him on the "Star Trek: Nemesis" set say he was in desperate financial shape. The wife was a hair stylist for movies."