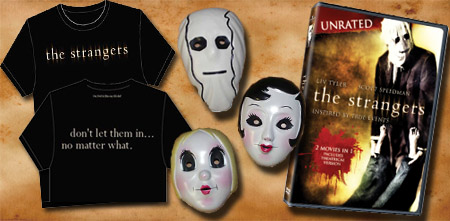 Strangers Halloween Giveaway!
Just in time for the season we have 2 prize packs from "The Strangers" that are sure to make this Halloween one to remember!
Here's what Schnaars had to say back in May when "The Strangers" was initially released:
It's clear from the opening that "The Strangers" was crafted by an artist who understands the mechanics of horror, but it was the decision to highlight the mundaneness of the actions on the screen — the banality of perpetrators — that truly makes the film horrifying.
Now, on to the prizes! We've go two prize packs for you guys, each of which contains the following:
1 Strangers T-shirt
1 Copy of "The Strangers" on DVD, containing both the theatrical and unrated versions.
3 Strangers masks, worn by the killers in the film.

WE ARE NO LONGER TAKING ENTRIES FOR THIS CONTEST. WINNERS WILL BE ANNOUNCED SOON.