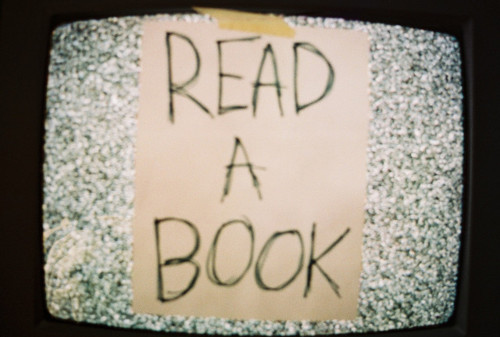 See it or Read it: 2015 Ed. #2
Here's the second edition of films and books that are probably better if not just as good for 2015:
Film: Goodnight Mommy (January – Austria)
Young twin brothers living in the countryside with their mother wait for her return. As she returns home, she is bandaged from extensive cosmetic surgery and nothing is the same as it was before.
Evie travels to her mother's house once she has been hospitalized to help set things in order. While she is there, she befriends Mina- an elderly neighbor who might be able to shed some light on the strange things Evie is finding in her mother's home. The further Evie investigates, the more menacing Mina becomes.
2. Film: Out of the Dark (February)
After moving to South America to take over the family business, a family (Julia Stiles/Scott Speedman) realizes their home is haunted.
Stella, an archaeologist with interest in the Anasazi people, teams up with a Navajo member, David as they try to outrun the evil presence from a dig site in New Mexico. They end up in what they assume is an abandoned cabin in Colorado, only to find that you can't hide from evil.
3. Film: Kitchen Sink (September)
All the stereotypical monsters used to live harmoniously along humans until something else comes to town and ruins it for everyone, until a group of teenagers set out to rectify it.
A solid anthology that delivers a wild assortment of both terrifying and entertaining short stories.
4. Film: The Visit (September)
After a visit to their grandparent's house, a single mother (Kathyrn Hahn) and her two children face extremely disturbing events.
Joe Gardner takes his family to visit the picturesque town of Colony, West Virginia where he grew up as a child. While there, Joe finds the girl that disappeared when they were children and they realize the evil that haunted those years ago has returned.
5. Film: Knock Knock (October –Belgium)
Two beautiful women terrorize a husband home alone while his family is out.
Fed up with his current situation, Drew Morrison begins to covet his picture perfect neighbors and their white picket fence life. But as the clichés goes, the grass isn't always greener (or safer) on the other side.
6. Film: Fetish Factory (TBA)
Set in post-apocalyptic Hollywood, Pin up ladies verses zombies for survival.
Davey Owen is down on his luck when he decides to check out the seedy Times Square peepshow, Live Girls. Soon Davey will realize that the girls at the club have a lot more to offer than just a show – and it's calling to them in the darkness of the basement.
7. Film: The Diabolical (TBA)
A single mother (Ali Larter) and her children are terrorized nightly by violent spirits that even paranormal experts are unwilling to face.
Three lives intersect in the idllyic town of Nantucket Island, when the sleepy town starts to experience unexplainable and gruesome homicides and spectral disturbances.
8. Film: The Final Girls (TBA)
Reeling from the loss of her mother, an 80's scream queen, a daughter is forced to fight the malicious foe from her most famous movie.
Living life in a slasher movie, Lindsay has to replace the slaughtered members of her homecoming court with a group of misfits and she is determined to be the final girl alive.
9 Film: The Vatican Tapes (May)
Video tape of a Vatican exorcism is leaked exposing the horrific events.
A group investigating The Danver Church, which happens to be one of the most haunted places in America, soon realize that the satanic symbols and imagery inside the church is just a joke compared to the evil that lurks within its walls.
10. Film: Poltergeist (July)
A young daughter is kidnapped by a horde of anger spirits when the family's house is discovered to be built on a burial ground.
After her brother goes missing, Karen's life is thrown into chaos. Her brother willed half of his bed and breakfast to her and she has started receiving omnious phonecalls tempting her to the town of Fallen Trees, Washington.
More for your expanding brains next Friday!