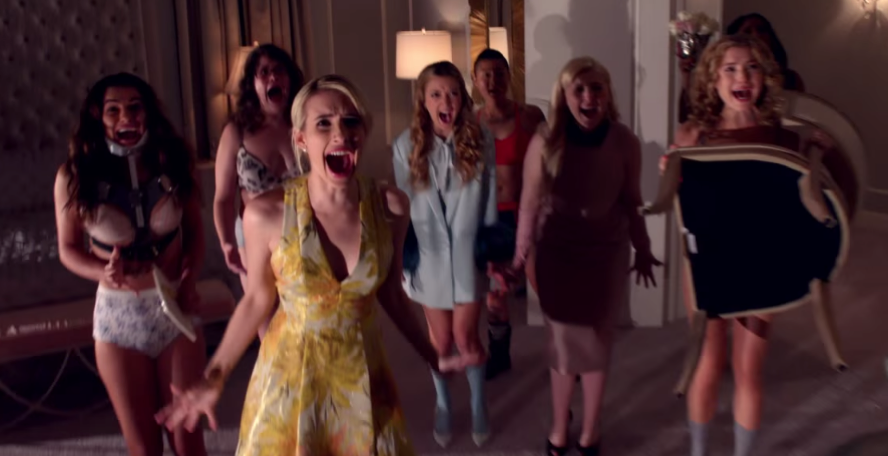 "Scream Queens" Trailer Will Leave You Screaming...For It to Stop
If you own a television or even if you keep your perusing to the internet, you probably have heard of Ryan Murphy. From his fetish medical drama Nip/Tuck to the constantly quoted American Horror Story and Glee (for the non-horror fans), Murphy seems to have the ideas to entertain; whether or not those ideas are successful is another argument.
Scream Queens is Murphy and his usual writing cohorts, Ian Brennan and Brad Falchuk's (who have worked with him on either Glee or AHS) newest blood baby, set to premiere in September on Fox. Based around a sorority whose snobby chapter is in danger of losing its charter, is forced to open its doors to anyone wanting to pledge as well as reopening an old murder mystery surrounding the Kappa House. Unlike American Horror Story that 'reboots' every season, Scream Queens will continue with any surviving characters into the following season, just in a different location with a different killer.
Unless Scream Queens is dumbing down the satirical writing and violence for the trailer, which is highly unlikely, even the star studded cast (Jamie Lee Curtis, Emma Roberts, Lea Michele, Nick Jonas, Nasim Pedrad, Niecy Nash, etc) won't be able to save it. Taking the most vapid parts of glee and the misused horror tropes of AHS and dumping them in a blender with a sprinkling of low rent cable productive values do not make a hit horror show.