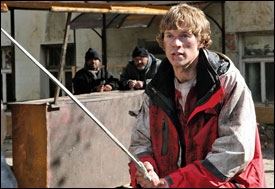 Sci-Fi Channel Movie... Not Garbage!?
When I see "Sci-Fi Channel" next to the word's "Rock Monster," the word that I least expect to see next is "good." But flipping through today's Variety, that's exactly what one would encounter. In an almost shocking turn of events, reviewer Brian Lowry has many pleasant things to say about this week's Sci-Fi Channel Saturday evening offering. His lead paragraph spills most of the goodies:
"Given how awful Sci Fi's Saturday-night movies tend to be, it took a polite email from the director to inspire a look at something titled 'Rock Monster.' Consider it a pleasant surprise, then, that co-writer-helmer Declan O'Brien has conjured up an amusing yarn on a shoestring budget, with a beast that resembles the geological formation Tim Allen fought in 'Galaxy Quest' chasing a college slacker through the woods near a small Bulgarian town. Despite the modest aspirations of these movies, it's refreshing to see what a little wit and obvious affection for the genre can do."
That's pretty much the equivalent of a ten for any Sci-Fi original, so consider my DVR programmed. I'm still going in pretty skeptical, especially considering we're talking about a fucking rock monster here (as opposed to the more standard monster from the sea or nuclear mutated monster). But Lowry deploys all the right genre criticisms—"knowing winks," "graphic killings"—to pique my interest. Here's hoping Rock Monster is the start of a beautiful trend.