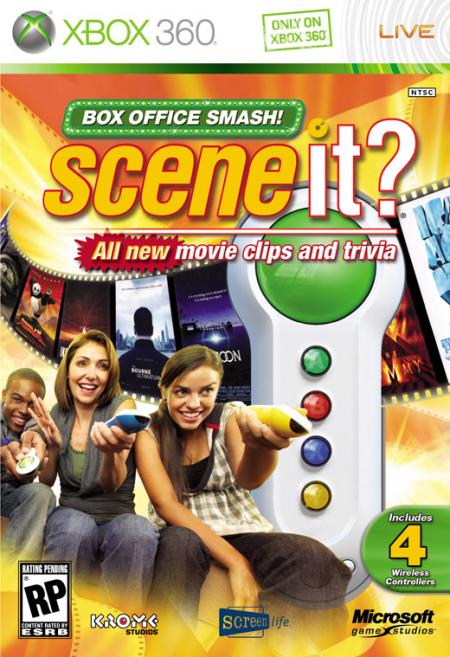 Scene It: Box Office Smash
There's no denying it. I'm a nerd. A pretty big one really. Be it movies, video games, gadgets and the like, I'm one pocket protector away from starring in my own college comedy.
This past week, my nerdliness was augmented by the addition of a new XBox 360 game, "Scene It: Box Office Smash", and let me tell you...the effects of said game were much like locking a fat kid in a bakery; I found my own little personal mecca.
"Scene It" for the Xbox is just like its cardboard cousin that has been around for ages, the various board games that come in a variety of themes and flavors for the discerning film geek. This time around, they've animated all the games and packed in a truck load of questions. The beauty is however, the game keeps track of the questions you've already covered, preventing you from seeing the the same question twice for quite some time. It also ramps up the difficulty as your scores begin to rise, always keeping you on your toes.
With all-new questions, more high-definition (HD) movie clips, and several new puzzle types, you have a trivia game overflowing with images plus audio and video clips from hundreds of films you know and love.
The new game lets up to four teams challenge one another from the comfort of your living room or across the miles via Xbox LIVE®. With the new Xbox LIVE experience, Scene It? Box Office Smash is the first game that lets you virtually put yourself into the game through custom avatars that respond to your play and react to one another throughout the course of the game.
* New movies, questions, puzzle challenges: It's not just trivia—it's trivia about movies you love, with hundreds of all-new questions, audio clips, photo stills, and HD movie clips never seen before in any Scene It? game. All 22 puzzle types have been designed to provide the ultimate multiplayer experience on Xbox 360.
* Pixel Flix: This new game lets you try to name the film after watching an old-school, eight-bit-style animation of a famous scene.
* Celebrity Ties: This is a "six degrees of separation" challenge in which you must link together a series of clues to guess the answer.
* Which Is Which: In this game, test your power of observation as you try to determine which of two similar movie stills match a particular movie.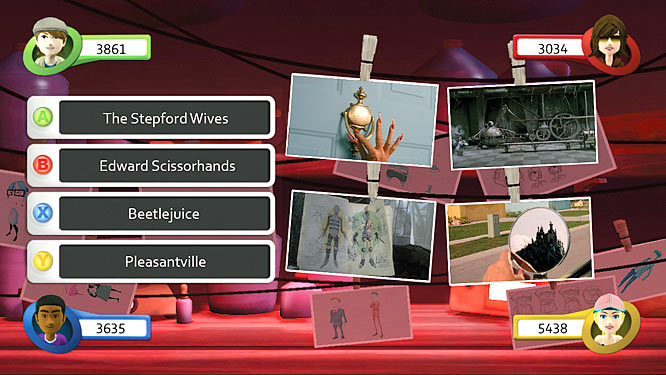 If you consider yourself a movie nerd, which I'm sure many of us do, the game provides countless hours of fun. Throw in the 4 team multiplayer on xbox live, and the entertainment becomes limitless. There's nothing like the smug sense of self accomplish that comes from beating out four other anonymous nerds from around the world! And for you achievement whores out there? There's even a horror movie related achievement!
The true untapped potential for "Scene It: BOS" comes in possible DLC for the game. While there's nothing concrete on the matter as of yet, the idea could be a veritable treasure trove for the publishers. With the varied themed versions of the board game, it should be extremely simple for them to add in theme packs through Live. You could have Horror, Harry Potter, Western, Science Fiction, the possibilities go on and on! At the right price point, its easy to believe that trivia nerds such as myself would snatch up every single one of them without question.
So, if you're a fan of the board game, snatch this up without question. It is just as fun if not more so. If you like trivia games, this is the natural (and only?) choice for you out there.
As always, if you already own "Scene It:BOS" and want to match wits with yours truly, be sure to send me an invite at Gamer Tag=CinemaFromage!