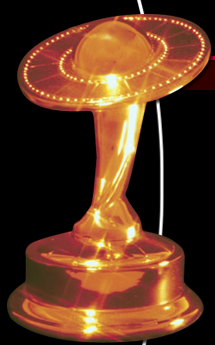 The Academy of Science Fiction Fantasy & Horror Films recently met to give away their 35th Annual Saturn Awards. This annual event honors genre films yearly.
Even though "The Dark Knight" took home the majority of awards, horror was still solidly represented. Here's a sampling of winners.
Horror Film: Hellboy II: The Golden Army
International Film: Let the Right One In
Supporting Actress on Televison: Jennifer Carpenter ("Dexter")
Guest Starring Role on Television: Jimmy Smits ("Dexter")
DVD Release: Jack Brooks: Monster Slayer
Series on DVD: "Moonlight"
DVD Classic Film Release: Psycho, Universal Legacy Series
DVD Special Edition Release: Stephen King's The Mist two-disc Special Edition
Life Career Award: Lance Henriksen
A well rounded group of winners indeed!
For myself, the most welcome award on this list is the Life Career Award given to Lance Henriksen. The man is one of my personal favorites and has worked in horror on all ends of the spectrum, big budget to none.
For the full list of award winners, be sure to visit the The official Saturn Awards Website.
What 2008 Horror Films do you feel were left unappreciated in this year's awards?