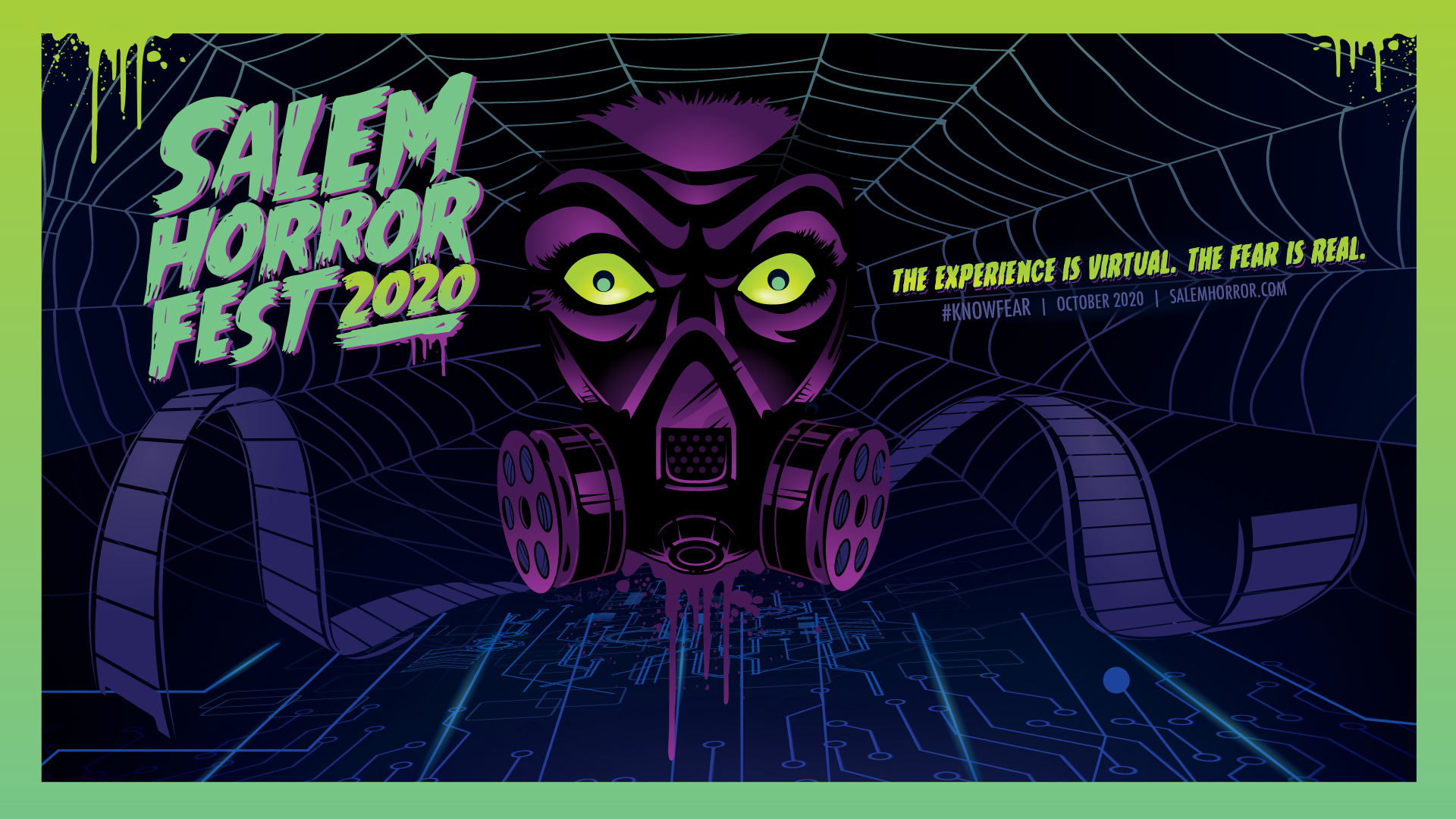 Salem Horror Fest 2020 Preview
Welcome to October, Weirdos! Let us take your coat and introduce you to your new best pal for the next two weeks, the 2020 Salem Horror Fest where "Halloween is Home."
Going on its fourth year, the Salem Horror Fest will be held virtually, giving attendees a chance to participate in live podcast recordings, legendary horror icon reunions, panels, seminars, and of course film screenings including several premieres. All Access, Weekend, and Zoom meet and greet passes are still on sale and can be purchased through the Salem Horror Fest site here.
"The world may be a dumpster fire, but the Salem Horror Fest is determined to keep the Halloween spirit alive by encouraging horror fans to stay home, be safe, and support independent filmmakers, horror creators, and academics from the comfort of their couch."
This year some of us from Bloody Good Horror will be attending the festival and we wanted to spotlight a few programs we are particularly excited about (let's be honest though, everything looks killer). Check them out below and while you're browsing the Salem Horror Fest website stop by their "Shock the Vote" page.
FEATURE FILMS
- All Descriptions by Salem Horror Fest -
Black Lake: Looking for inspiration and to pursue her passion for Expressionist painting, Aarya, a young woman, leaves her family in the city to house-sit, in a large secluded property surrounded by beautiful Scottish landscapes. She is gifted a red scarf, sent by her aunt from her recent travels to Pakistan, and is haunted by a Churail: a demonic and malevolent South-Asian Witch. Directed by K / XI
Displaced: A young black man in Brooklyn must prove his new white neighbors are emissaries from the Satanic cult they both survived as children. Directed by Josh Atkinson
Leni: Recurring nightmares and the aftermath of a violent break-up have put Leni on edge as she desperately seeks to regain her sanity. Now she must confront her monsters in order to unravel the trauma of a past she doesn't seem to fully remember. Directed by Federico Gianotti
The Strings: In the dead of winter, musician Catherine travels to her aunt's remote cottage on the shores of Prince Edward Island to work on new material in solitude. Soon after visiting an abandoned farmhouse with local photographer Grace, strange and disturbing occurrences begin to manifest at the cottage, escalating each night and eroding Catherine's sense of reality. Directed by Ryan Glover
Threshold: Improvised, shot on two iPhones over the course of a 12 day road trip, with a crew of 3, THRESHOLD follows a sister, claiming to be cursed, as she persuades her brother to embark on a cross country road trip to break her spell. Convinced she's using drugs, he agrees to the trip with one caveat: if there's nothing at their destination, she goes straight to rehab. Directed by Powell Robinson, Patrick R Young
The Witches of Hollywood: A documentary studying the archetype of the witch in Hollywood cinema from the 1930s to the present and shows, between the lines, how it is linked to the social history of female power. Directed by Sophie Peyrard
PANELS
- All Descriptions by Salem Horror Fest -
The Black Diaspora in Horror: This panel features five diverse Black voices in genre speaking on the representation of the Black Diasporic narrative in contemporary horror. Presented by Maurice Broaddus, Chesya Burke, Sade Sellers, Leslie Rivera. Eunice Levis
Jet Horror: Black Horror Representation from 2010s to Now: A panel with four strong Black voices in genre speaking on the representation of Black people in horror films of the recent decade. Presented by Prince Jackson, Xero Gravity, Zena Dixon, Anya Stanley
A Round Table on Black Women's Horror Aesthetics & Traditions: Lea Anderson will moderate a conversation with Ashlee Blackwell, Moon Ferguson, Dianca London Potts, and Dani Bethea exploring Black women's representations in horror to establish our specific aesthetics and traditions within the genre.
LECTURES
- Abstracts quoted from Salem Horror Fest -
Bad Bitches: Sex & Power From the Stake to the Sanitarium
Few historical figures are as evocative as that of the witch—or as startling as that of the hysteric. With Europe's shift from Medieval superstition to Modern rationality, the two have become inextricably linked. Presented by Valeska Griffiths
But Some Of Us Are Fly: The Black Final Girl
Carol Clover's groundbreaking book, Men, Women, And Chainsaws: Gender In The Modern Horror Film marks the widely known introduction to the term, "Final Girl" which thoroughly examines a formula that positions women in major slasher film roles as strong, capable characters that in the end, defeat the antagonist and survive. The film period that Clover covers to use the most substantial examples is witness to a noticeable absence of black female characters that don't quite fit the Final Girl description. Presented by Ashlee Blackwell
Feasts of Fear: Food in Horror Movies
Food. It's something we need. A thing we consume daily. Why do so many movies ignore this? Fortunately Horror doesn't always do this and there is a plethora of ways it uses and even celebrates it. Presented by Sarah Stubbs
Hopping Mad: A Brief History of Jiangshi Cinema
They're undead. They're hungry. And they can only achieve locomotion via goofy little hopscotch jumps. They're called jiangshi, accursed demons feeding on qi the same way Dracula feeds on blood, and they made the Hong Kong film industry a weirder and wilder place as their popularity peaked during the '80s. Presented by Charles Bramesco
The Masque of the Red Death
Although most of us haven't lived through a pandemic before COVID-19, Edgar Allan Poe's short story "The Masque of the Red Death" reminds us that global plagues are really nothing new as far as the history of the planet is concerned. Presented by Bryan Christopher
Plug It Up! Puberty and Menstruation in Horror Films
Dr. Rebekah McKendry will explore the history, presentation, and role of female puberty and menstruation in horror films. Ginger Snaps, Carrie, IT, The Witch, Tale of Two Sisters, Valerie and Her Week of Wonders, and much more! Presented by Dr. Rebekah McKendry
Rendering the Invisible Visible: Black Femininity as Unsympathetic, Powerless Monstrosity:
The ways in which horror is defined as a genre are largely based on the centering of the white male perspective. Monstrosity and terrors are named according to the things that are deemed frightening by the societal majority. Maintaining this focus not only limits how the genre and definitions can grow but also erases the experiences of marginalized groups, specifically, Black females. Presented by Rhonda Jackson Garcia
The incredible line up will also include a collection of shorts, a reunion of the IT TV miniseries cast, live performances including a score to Häxan: Witchcraft Through The Ages by Walter Sickert & The Army Of Broken Toys, a Cecil B. Demented 20th Anniversary retrospective, and a tribute to Joe Dante just to name a few other programs.
Get your passes here, grab your candy corn, turn off the lights, and settle in for an incredible kick off to the spookiest month of the year!