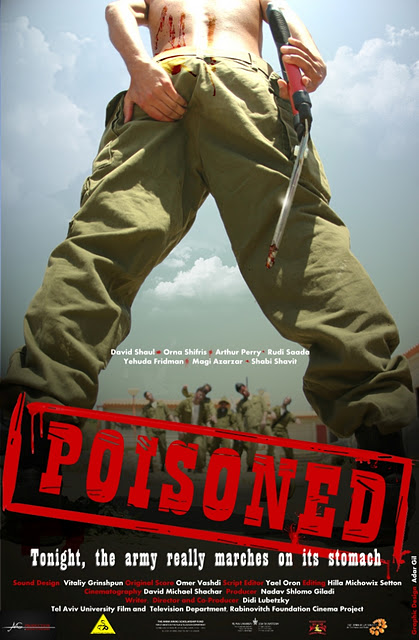 Posters: "Poisoned" seems like it might have a double meaning...
"Poisoned" is an Isreali horror film that currently has no U.S. release plans. That's ok with me since I don't plan to watch it. I'm more concerned that I read the synopsis twice and it said absolutely nothing about explosive diarrhea, but that seems to be the only message I can discern from the poster. The blood, the tender way in which he's holding his cheeks closed. What else could it all mean? (click to enlarge)
But on Passover night, the worst night for an Israeli custodian, his life is about to change. His high-school crush Maya (Orna Shifris) arrives to deliver vaccines to the fighters. She mistakes Danny for one of the fighters and shows interest in him for the first time. Danny keeps up the lie, but fate has different plans. The vaccine makes the elite troops turn into flesh-eating zombies who go on killing the rest of the soldiers in the base. Danny, being the only one left uninfected, runs for his life — until he finds out that he isn't the only survivor. Used to avoiding conflict, he now realizes that this time there is no escape. Danny is going to have to utilize his only skills in order to save himself and his love — gardening skills!