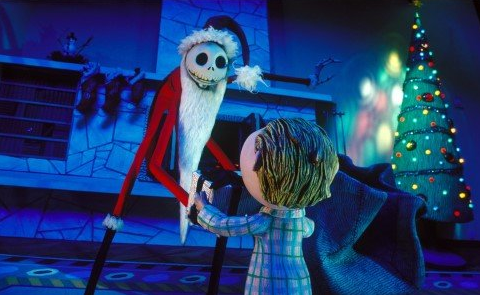 Nightmare Before Christmas Contest!
Courtesy of Walt Disney pictures, we have TWO copies of the new Collector's Edition of Tim Burton's "Nightmare Before Christmas" to give away to our loyal readers. The disc is being released on Tuesday August 26th, 2008.
From the Press Release:
Finally released from the Disney vault, Academy Award®
nominated writer and producer Tim Burton's (Charlie and the Chocolate Factory, Corpse Bride) The Nightmare Before Christmas: Collector's Edition returns in a deeper, darker and more brilliant digitally-restored masterpiece -- as Tim Burton originally envisioned. This delightfully twisted story releases just in time for the Holidays, August 26, 2008, in a first time Collector's Edition DVD and Blu-ray Hi-Def Disc Box Set.
And for the first time ever, Nightmare fans will be able to take advantage of all new, never-before-shared bonus features made solely for this special Collector's Edition release. Some highlightsinclude a Tim Burton poem narrated by Christopher Lee (the Lord of the Rings trilogy, Charlie andthe Chocolate Factory), a private backstage tour of how Disneyland tricks-out their Haunted Mansion ride for Christmas, and an all a new introduction to the movie by Tim Burton which is exclusive to the Blu-ray Disc.
FOR THOSE ON THE RUN:
And for those who plan to travel this coming holiday, Walt Disney Studios Home Entertainment is adding a special "DisneyFile" Digital Copy of the movie -- enabling DVD and Blu-ray owners to receive a digital version of The Nightmare Before Christmas in their choice of iTunes or Windows Media formats. DisneyFile Digital Copy is a fast and easy way to enjoy your favorite Disney movies, anytime, anywhere on your Mac, PC and/or compatible portable device.
This contest will run one week and end on Saturday August 30th, 2008 at 11:59pm. Only one entry per person.
Just hit up our contact page and send us an email with "Nightmare Contest" in the subject line... we'll do the rest. Good luck guys! (here's a look at what you're entering for)