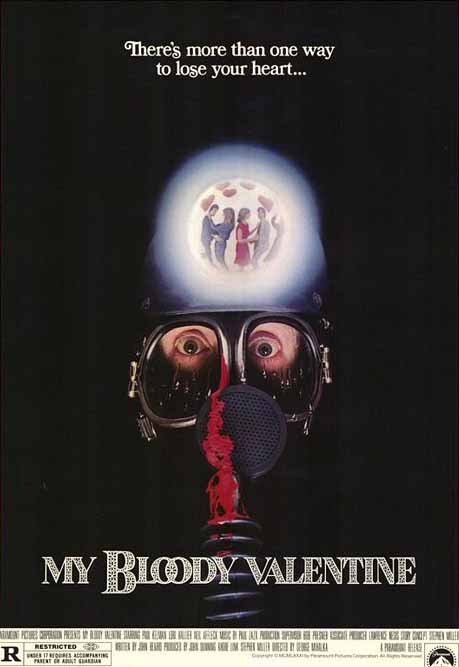 My Bloody Valentine Scoop!
So over the last few days I've been interviewing people involved with Lions Gate's "My Bloody Valentine 3D" remake, for issue #14 of Horror Hound Magazine.
In doing so, I came across some time sensitive tidbits that I've been given permission to talk about now. Of course, there will be lots more in-depth information when my article finally hits the news stands, so don't forget to pick it up when it comes out! (Horror Hound is available at the site linked above, as well as most major bookstores in the US)
When interviewing the director Patrick Lussier (who worked with LG recently doing reshoots for "The Eye"), I discovered that they are just finishing up the first full 3D version of the film, and that they're about to screen it to the MPAA. He said:
Ya, we're about to have a bit of a screening for our delicious friends at the MPAA (laughs)... We're just hoping we don't follow in the footsteps of the original film. The original film went back 9 or 10 times and is notorious for having (over 10) minutes or something taken out of it. But with any R rated film it's a thing right? You're wanting to make sure that you're leaning over the edge but not falling into it.
And although I didn't want to be "that guy", I had him on the phone so I figured I would pump him for information about whether or not he'd be interested in working on a possible sequel. On that front he had this to say:
Umm... sure (laughs). I think I'd be lying if I said Todd (Farmer) and I haven't had several conversations about it. (laughs) You know one of the things that we've really enjoyed in this process was the fact that we had such a great cast... or the fact that the characters that survive and how they survive at the end of the story, are incredibly intriguing. There is such an amazingly iconic villain (also). All those things entice both Todd and I tremendously. And if we were to be so lucky, knock on wood, by all means we would love to be considered for that.
So it sounds like he's down for a sequel! Normally I wouldn't be so excited about the prospect of sequels, but friends, after talking to Patrick as well as a few other people who are working on it, I have incredibly high hopes for this film. For details as to why, you'll have to wait for the next issue of Horror Hound, but until then, your first look at "My Bloody Valentine: 3D" may be closer than you might think. As far as the first trailer goes, Patrick had this to say:
I suspect there will be one on Saw. The studio will have to answer that for you. I've been hunkered down in my editorial bunker. (laughs)
I am still waiting for confirmation on this from LG, however since "Saw V" will be Lions Gate's next high profile release (on October 24th, a little more than a month away!), it would make a lot of sense for a trailer for MBD to show up in front of prints of that film. When I hear confirmation, you guys will be the first to know!