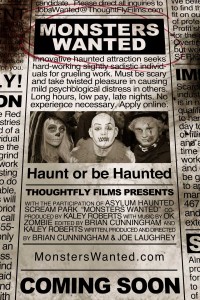 From the heart of the Commonwealth in Louisville, KY comes "Monsters Wanted". A new documentary on the intricacies and behind the scenes action that occurs at your local haunted attraction. This feature is being produced by personal friend Brian Cunningham, so I'm a bit biased. Though I must say it's turning out beautifully. Having only seen raw footage up until now, the trailer has illustrated the coming feature wonderfully. So check out this great trailer and head on over to MonstersWanted.com for more.
---
Monsters Wanted
Synopsis:
In early 2011, Rich Teachout quit his lucrative job to focus on creating a one-of-a-kind haunted attraction. He and his partner Janel dedicated every moment, ounce of energy, and dollar to making their "Scream Park" a reality. "Monsters Wanted" is the story of their self-proclaimed madness and the industry, culture, and people who share it.
We followed his efforts from the first day of building beyond the last day of the season. The result is a one-of-a-kind peek into an industry known for its macabre antics and well guarded secrets.
Monsters Wanted: Haunt or be Haunted.