Meme Attack: Instant Random Band
There's a new meme going around the internet that will probably take its place alongside LOLcats and Chuck Norris jokes on "I Love the 2000ies" in about 10 years and feed Michael Ian Black's family for another week. Basically, you let the random functions of Wikipedia, Quotations Page and Flickr come up with your imaginary band's name, album title and cover image. You can see my first attempt above. I think Kanoê was a Norwegian band from the early 90s with a strong goth and new wave influence who broke up when their lead singer died in a tragic fjord accident. My second attempt resulted in Tonearm, which I believe was a short-lived Al Jourgensen side-project that attempted to combine Industrial beats and slam poetry.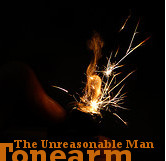 If you want to give it a try and post your results in the comments, here's how to do it:
1) Go to Wikipedia and click on Random Article. This is your band name.
2) Go to the Quotations Page and click on Random Quotes. The last few words of the last quote on the page is your album title.
3) Now go to and click on explore the last seven days. The third picture on the page is your album cover.
A little photoshopping and boom, you've got your debut album.