Bombs Away! A Conversation with Cherri Bomb
Fame out of nowhere. All-girl rock group Cherri Bomb has gone from the fringe to the main stage through their association with acts like Filter, Rise Against and Billy Corgan. Continuing the trend, the band has attached their single "Shake the Ground" with the biggest movie event in a couple of summers, landing on the soundtrack of Marvel's blockbuster "Avengers." I sat down with Julia Pierce and Miranda Miller to talk about their music, gaining fame early, and being in an all-girl band.
M.DREW: Holy crap, your song "Shake the Ground" is attached to the biggest movie event of the summer, "The Avengers." What does that feel like, how excited are you?
MIRANDA MILLER: SO EXCITED. I mean, first of all, it's the Avengers. You can't go wrong there. Plus, we're on the soundtrack with a bunch of bands that we love and admire!
JULIA PIERCE: SUPER EXCITED! It feels good being on the same soundtrack as some of my favorite bands: Soundgarden, Bush, and Rise Against!
M.D: How did that arrangement come to be? Did someone approach you about being a part of it?
Miranda: Iron Man asked us to be on the soundtrack, and we all agreed it was safer to say yes.
Julia: Well, the Hulk heard "Shake The Ground" and demanded it be on the soundtrack....and who's going to argue with The Hulk?
M.D: "This is the End of Control" hits stores on May 15th. How do you feel about the album, and what should fans expect from it?
Miranda: I am beyond excited for this album to come out. It's us taking our fans through our experiences, it's rock, it's four girls coming together and making what WE want, hence the name "This Is the End of Control."
Julia: I am proud of this album. it really is the result sound of all four of our individual styles and personalities. Fans should expect it to take them on a journey, and hopefully they find it relatable in some kind of way!
M.D: For those who may not be familiar, define your sound for the readers. What are the principle elements in your music?
Miranda: If you take Muse, Foo Fighters, and Paramore and mash them all together, and you get something like Cherri Bomb.
Julia: Kickass edgy in-your-face rock! We love including four part harmonies, ballsy guitar riffs, and loads of energy into our music.
M.D: How long has this album been in the works, and what emotions are you feeling as the release comes closer?
Miranda: Feels like forever. We worked on it for months, but it all felt like one really long day. I'm so ready for it to come out. I think we all are.
Julia: We've been recording mostly from October to the end of 2011, but we've been working on album art and other details ever since then. I'm getting more and more excited as the days go by. I really can't wait to hear everyone's feedback.
M.D: Given all the festivals and concerts in front of large audiences you've already played, does the album release feel anticlimactic at all?
Miranda: No, not at all. It feels like one giant build-up, and I hope it doesn't end at the album. I think it's just part of our journey, not to mention one of the best parts.
Julia: No not at all!
M.D: You've rubbed elbows with Billy Corgan, members of Coal Chamber and a slew of other prominent musicians...do you feel like that puts more pressure on you to be successful?
Miranda: They all have wonderful elbows. I mean, sure, people have higher expectations for us, but it's something that drives us to be even better.
Julia: It mostly just makes me feel very fortunate. I learn more and more from these mentors and we make friendships with them. I feel that it definitely just gives us recognition, and that we can always look back and say "Wow. Look at all these opportunities we've had already in such a short time. I can't wait to see what the future holds for us!"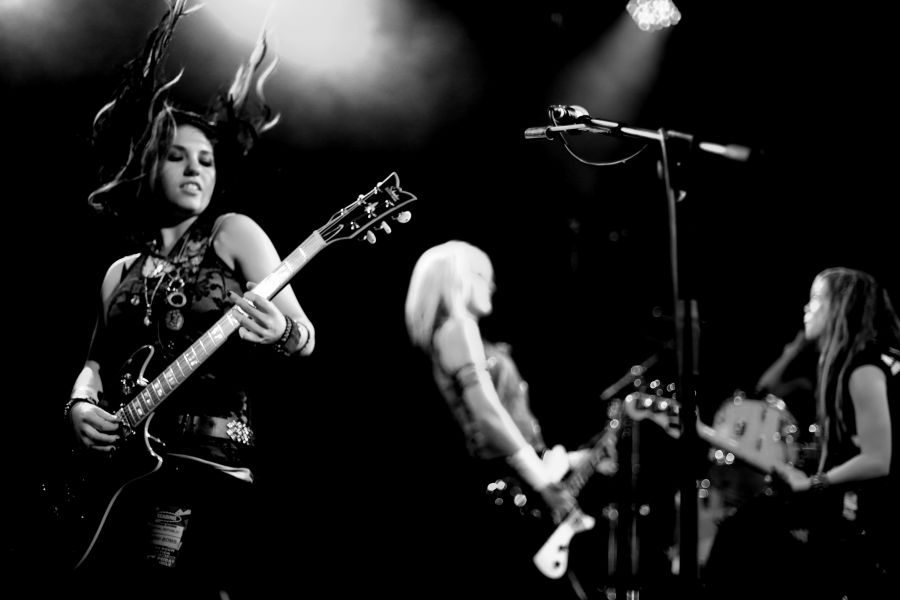 M.D: With all the bands you've played with, did anyone cause you a star-struck moment? If so, who was it?
Miranda: Meeting Dave Grohl and Marilyn Manson were the closest I got to being "star-struck", but I can only think of one musician that would really make me go crazy if I met him. I'll tell you about it after it happens.
Julia: Well, when we played at Soundwave, we got to watch and meet many bands playing with us on that tour. I was really starstruck meeting Marilyn Manson, and Jeremy McKinnon from A Day To Remember.
M.D: In your experience, do you think there is a different standard which all-girl bands are held to among fans and industry professionals?
Miranda: Definitely. All-girl bands are different from guy bands in a lot of ways, so some people look at us as a different entity.
Julia: As a matter of fact, we're trying to break that mold!
M.D: Do you find yourself taking inspiration from trailblazing women in rock like Joan Jett and Shirley Manson, or from a broader spectrum as a whole?
Miranda: I take inspiration from so many places and people. Women in rock inspire me to find my own power. I especially love Gwen Stefani, Alanis Morissette, and Shirley Manson. But other musicians, my friends and family, our fans, my passion for music...it's all just as inspiring.
Julia: Of course, I'm definitely inspired by women in rock. I think that any successful rock musician, guy or girl, is inspiring to me. No matter who you are, or where you come from, success, especially making it in rock n' roll, takes true dedication and lots of hard work.
M.D: Your manager, Samantha Maloney, is an experienced musician in her own right - how has she helped you grow, and what lessons has she taught you, based on her career?
Miranda: We've learned so much from her, and because she's gone through so much in the music business, she's helped us to avoid common mistakes and "potholes" in the road. I think the best thing she told us was to wear deodorant on the tour bus. Seriously.
Julia: Sam gave us a very valuable piece of advice: "What happens on the road, stays on the road."
M.D:You're still extraordinarily young - what advice would you give to musicians up and coming?
Miranda: Don't let anyone stop you. If you know what you want, go out and get it.
Julia: Always take the path that your heart is telling you to take.
M.D: Are you ladies fans of horror films? What do you watch on the bus while on the road, and have any movies ever inspired your songwriting?
Miranda: I've watched some horror movies with the other girls, but I usually cover my eyes for half the movie...We watch all kinds of movies together. I find that Michel Gondry's movies are the most inspiring.
Julia: I'm a HUGE fan of horror films! And whenever I'm on the bus, I'm too busy resting or sleeping to be watching movies! But, sometimes we love writing material with a post-apocalyptic feel. I'm sure action movies probably take an indirect play of that inspiration one way or another!
M.D: What are the themes you look for in movies, what do you enjoy?
Miranda: I love all kinds of movies, especially ones that make me think. Movies that make me ask questions leave a lasting impression.
Julia: I always look for an epic ending, or something that leaves you speechless with chills down your spine. I love all kinds of movie genres, it really just depends on my mood.