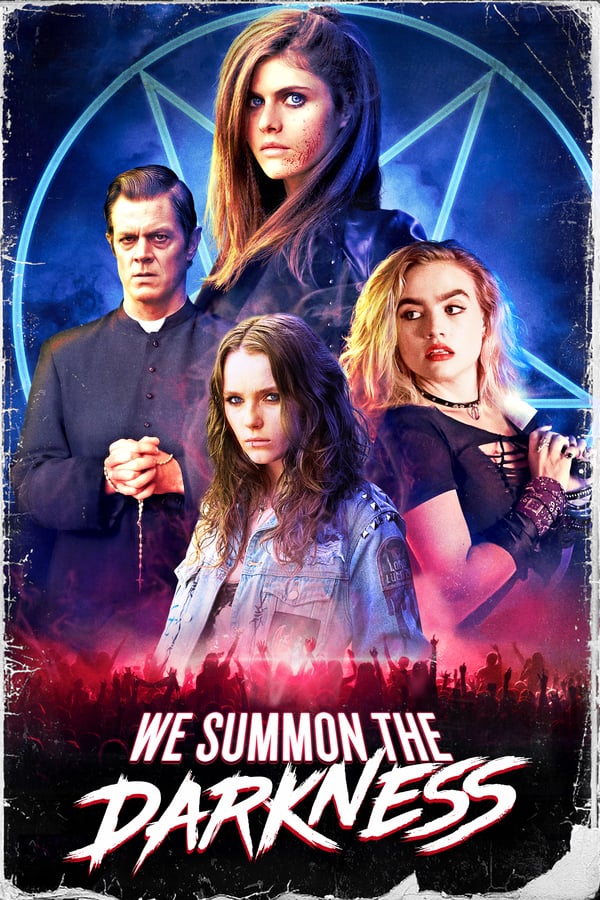 Interview: Marc Meyers on Directing We Summon the Darkness
Editor's Note: Jayson talks to director Marc Meyers (My Friend Dahmer) about making his latest film We Summon the Darkness and how he approaches working in a genre. Plot elements from the film are discussed in detail.
---
Jayson (BGH): I think it's safe to say that in large part We Summon the Darkness is about the satanic panic of the 1980s with lots of period heavy metal references and influences. How did you go about capturing the spirit of the time both with the madness of what was happening but also the music?
Marc Meyers (MM): Those are the two things that, when I was given the script, made me interested in directing it. My producing partner and wife read it and we both had the reaction, "Oh my God this movie could be so much fun...How much fun would it be to just put out a fun movie." It's bloody, it's got pyrotechnics, and stunts. It's wild. It's fast. It's got a great cast and at the core of it are three beautiful women.
I felt like it had all the ingredients of a fun genre film. I could lean into the crazy world that I recall when I was younger during the satanic panic and the metal world that was. I wasn't a deep metal head, but I've definitely always loved hard rock and some parts of heavy metal. It was always part of my music collection...Those elements and that short documentary, "Heavy Metal Parking Lot" were a great inspiration for the script and for myself as a filmmaker. All of this was why I got so excited to do the film and of course to talk with you about it now.
BGH: With both My Friend Dahmer and We Summon the Darkness you—very effectively I think—walk a thin line of dark comedy while establishing real emotional stakes. What strategies were you able to use to accomplish this?
MM: That ultimately is what motivates me as a filmmaker. To find humanity, even in the darkest of times, is a really fun thing to explore. To think deeply and collaborate with an actor like Ross Lynch (My Friend Dahmer), to dive through the journey of a teenage boy who is becoming a monster and a future serial killer, and then for you to care about him because he's just like the rest of us. He's a lonely young teenager, looking for someone to care for him. I had to personally find a way to connect and empathize with the true Jeffery Dahmer through [John Backderf's] graphic novel so that I could find a little bit of myself in him, and then allow that to inspire [Ross] to do the same for him and impact how he portrayed that character.
In We Summon the Darkness it's in all these characters. Are they brainwashed or not? If they love heavy metal, at least you think, this is a great heavy metal dream. You might meet some gorgeous women at a heavy metal concert who want to bring you home and pair up and party all night. That's what we all wanted as teenagers; that experience. To start there and portray that through these characters, and to take a dark turn, balancing that fine line, that's the true challenge of making something dramatic in a fundamental way for an audience.
BGH: Can we please just talk about Alexandria Daddario in this film?
MM: Well, I was introduced to Alexandria Daddario through the producers, some who already knew her. She had done a previous project written by Alan Trezza (Burying the Ex) and she was excited to connect after I made My Friend Dahmer. We just had an open friendship through [pre-production], allowing her and her co-stars to feel comfortable; that they could have fun and that we could have fun together making this movie. That allowed us to openly communicate as collaborators and to explore all the various scenes and how to interpret them.
She is the utmost professional. She is so talented, beyond how beautiful she is. It was very easy working with her because we just connected. It was also important to me that I had a set that wasn't just a boy's club because there were three leading ladies. I made a point of looking to hire a woman cinematographer [so I had] Tarin Anderson by my side. That brought a level of not only comfort but [she also set] a very mild-mannered tone that allowed us to keep all of the mayhem in front of the camera and not behind it.
BGH: You shot this and Human Capital back to back—two very different films. Is it a unique challenge jumping in and out of genre filmmaking?
MM: Here's the honest thing. As a director you could spend a lot of time working towards the opportunity of getting on set. You spend more time preparing for what could be on an independent film [shoot that] could be 20-25 days then maybe for a larger film with far more days of filmmaking. So I benefited from being on set back to back as a director. It wasn't that far [between] when I made My Friend Dahmer and previous movies. That comfort and those rhythms, working with a crew on set, were something that I was very comfortable with. That allowed me to care more about making the best movie instead of navigating the ups and downs of the challenges of just shooting. Both of those scripts asked me to tell those films in two different ways and I was prepared for both.
We Summon the Darkness, I think, is kind of genre bending. I never looked at My Friend Dahmer as a straight horror film even though that's how it's classified...It's kind of a horrifying coming of age story but it's mostly set in broad daylight. Here is something that starts similarly. It's a horrifying bunch of circumstances where girls go to a heavy metal concert and invite boys back to the house and continue to party for the rest of the night. Human Capital is also sort of a mix of drama and thriller but not an explicit thriller. With all of [these films] I think I'm edging towards a genre but I'm not being so blatant about all the tropes.
BGH: It feels like what you are saying is that it doesn't really matter what type of film you are making. It's about being in rhythm as a director and it's about the people in the story. Would you say that's right?
MM: Yeah. But it's true. If you are concerned with the characters and you understand what their goals are as characters and how that provides for the overall vision, then you're working with the actors and DP to get all the footage possible for the editing room to sculpt the story later. As long as I am using the camera with purpose and I am helping the actors find focus then in my eyes you can do any kind of movie. Honestly if I look at some of the directors I most admire they jump to all kinds of films. In the same way actors jump to all kinds of films. They jump from horror and to comedy and drama and there is no reason as a director I can't do the same.
BGH: So who are the directors you really admire?
MM: You know, the major influences change. We all have our filmmaking heroes. Stanley Kubrick or in my case Olivier Assayas or even Ron Howard or Curtis Hanson. Curtis Hanson for example did Wonderboys, 8 Mile, In Her Shoes, LA Confidential. I think that's an incredible array of films that are all big and entertaining but not like the one before.
You know, I'm just looking at my collection of DVDs and there's everything from Fellini and Cassavetes to Coppola…[When watching these] sometimes I'm looking for permission and how [directors] did certain things. When I worked with the storyboard artist for We Summon the Darkness I let them know the way I wanted to frame these three women to kind of resemble and sort of homage how Kubrick framed certain characters in A Clockwork Orange. It gave us a place to start from and gave us a philosophy. As you work things evolve. I'm always looking for different directions.
---
We Summon the Darkness is now available on Digital & VOD.