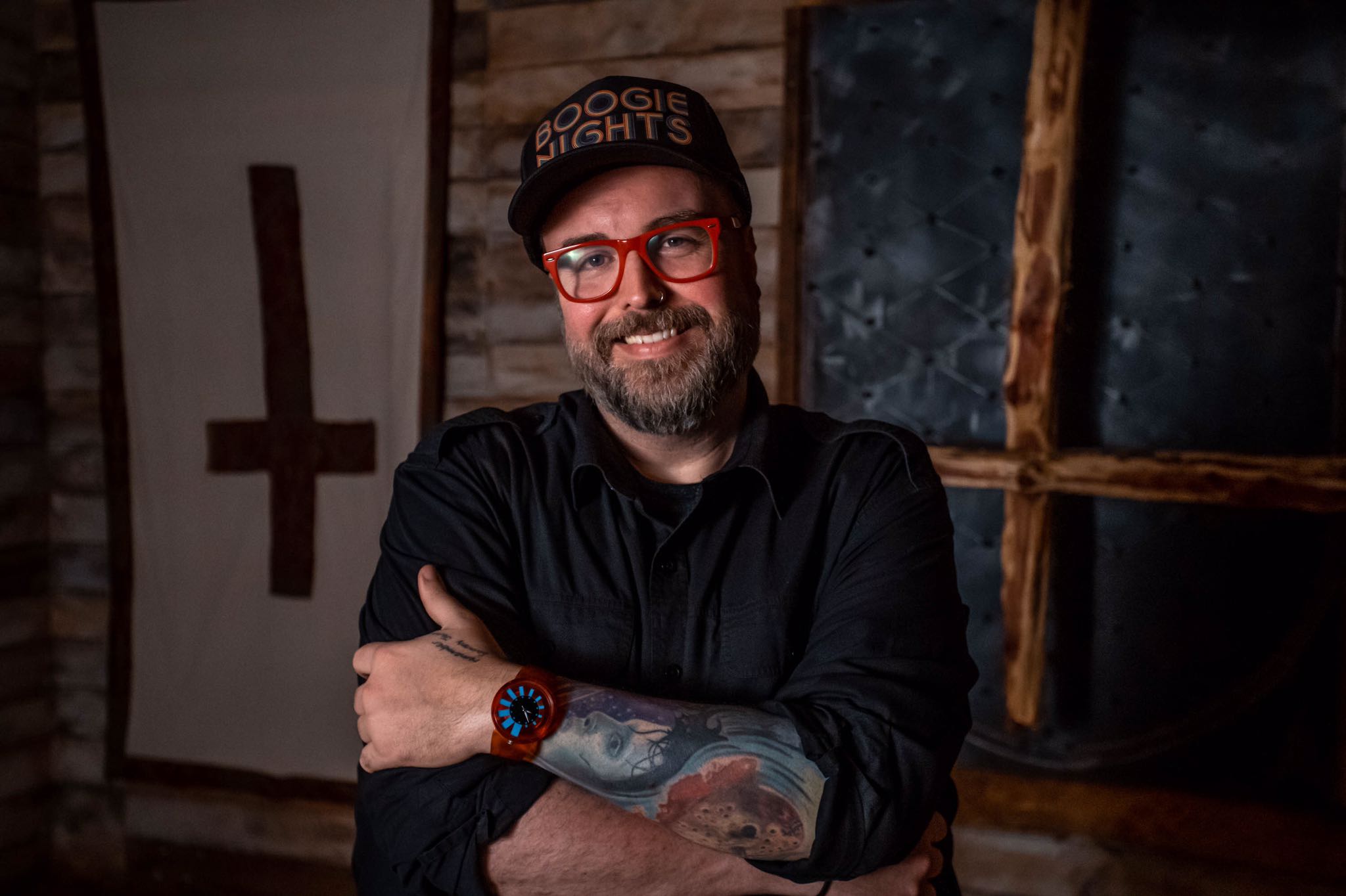 Interview: Aaron B. Koontz on Directing The Pale Door
Jayson interviews Aaron B. Koontz, director, co-writer, and co-producer of the upcoming horror / Western The Pale Door. Koontz was previously an executive producer on Starry Eyes (2014), co-writer and director of Camera Obscura (2017), co-director, producer, and writer of Scare Package (2019) now available on Shudder and coming to On Demand, Digital, Blu-ray and DVD October, 20. The Pale Door comes to theaters and digital streaming on August, 21.
---
Jayson (BGH): One of the things I find intriguing about some of your work is your ability to swap effortlessly within multiple horror sub-genres including horror comedy, psychological horror and now Western. Is diversity of material something that drives you?
Aaron B. Koontz (AK): Absolutely. With Paper Street Pictures, my company, we want to do hybrid horror. We are always looking for angles on things we haven't seen before or seen very little of. Even right now we are in development of a horror sports movie because we've never seen that before, you know? That's a big thing that drives us because it's a lot of fun. I think it gives us opportunities that others wouldn't have.
BGH: The Western is a loaded genre dealing with violence, race, colonialism, technology, and many other themes. What was it that attracted you to telling a story in this framework?
AK: In this story in particular, I think it really centered around the anti-hero sensibilities and the idea that I didn't want to have just a good versus evil story. What creates a gang of outlaws? And what creates a coven of witches? Maybe there's a way to parallel them and talk about how violence creates more violence and hate creates more hate. That was a big thing that was going on when I was writing this, and has become even larger in our society today.


Bill Sage as Dodd in the horror/western, "THE PALE DOOR," a RLJE Films/Shudder release. Photo Courtesy of RLJE Films/Shudder.
As those scenes were circling around in my head there was just this thought: Who are these people in this gang and what happened to make them outlaws, to cause them to become criminals? Is there a way to stop the pattern and what could that be? I wanted to explore that from the [perspective] of brothers and sacrifice. And then with the witches. Let's say we live in a world where witches are real. What created the first witches? Where did that come from? Maybe they both came from a place of violence and strife.
So then when I tied into the Salem Witch Trials, they were not witches during that time. These were just religious zealots doing awful things to these women. Maybe someone watching, maybe just dabbling in black magic at the time and then that inadvertently created the witches from there. I thought there was something really interesting about that. Pairing them off in a sort of survive-the-night sequence felt like something thematically was achievable and also different and fun all at the same time.
BGH: There's a literary streak running through this film as well. There's an author prominent in the film. Also we learn the title, The Pale Door, is taken from an Edgar Allan Poe poem called The Haunted Palace. One of the themes of that poem is the witnessing of something beautiful distorting into something ugly. How do you think that theme resonates throughout this film as well as the use of literary references?
AK: Yeah I mean look, when you get to work with folks like Joe Lansdale [executive producer] and Keith Lansdale [co-writer] it's inevitable. It's going to come out in the writing. And I think there's these flourishes that they help add throughout the film that kind of elevate that.
I would say The Haunted Palace was a poem I loved for a long time. I thought there was something beautiful about the concept of the evil that hides within these walls. The line "To laugh but to smile no more" in particular, the idea of this person who is laughing but not smiling, is so creepy to me. I talked about that mix with Melora Walters and Natasha Bassett who played my two witches Maria and Pearl.
Melora Walters as Maria in the horror/western, "THE PALE DOOR," a RLJE Films/Shudder release. Photo Courtesy of RLJE Films/Shudder.
[The theme can apply to] this town our gang ends up in. Was the town once something else? Maybe more vibrant. There was beauty that got lost and decrepit over time. It just became a perfect way of setting up the story and then if you read the poem it's going to resonate even more. But at its core element, to open up a film like this with a stanza from a Poe poem is so beautiful. Of course the phrase 'the pale door' has this western tinge to it. So then, this is perfect, you know? It became the title I just had to have and knew where this was going to sort of permeate [through the film]. The apple doesn't fall far from the tree with Joe and Keith's writing. I was so lucky to have them on board.
BGH: Along with being a horror movie and a Western, The Pale Door is also a bit of a siege film. Are there any films that were a key influence for you that we might not expect?
AK: Yeah, I mean goodness. Definitely Bring Me the Head of Alfredo Garcia (1974) the later Peckinpah film. Which I think cinephiles are fans of, but it's not like a normal Western, like the big picture Westerns people think of. So I think that one was really interesting and had some minor heist elements in it. There's also a little The Wild Bunch (Peckinpah, 1969). There's a moment when the crew is trying to regroup and figure out what to do after a big fight scene with the witches. I talked to Pat Healy and Stan Shaw and Bill Sage, all them, and I was like, 'look, this is our Wild Bunch.'
On the horror side, The Descent (Marshall, 2005) was one that we kind of played with a little bit. There's a little bit of From Dusk till Dawn (Rodriguez, 1996) for sure in the setup and mid-act turn. And then I would say I pushed a little bit of Event Horizon (Anderson, 1997) with a descent into madness. What does opening this door to hell do to your psyche and psychologically? I thought there was something fun there to explore.

The Assassination of Jessie James by the Coward Robert Ford (Dominik, 2007) was another influence. We loved what Roger Deakins [director of photography] did with the train robbery in that. It was fun to layer these all in.