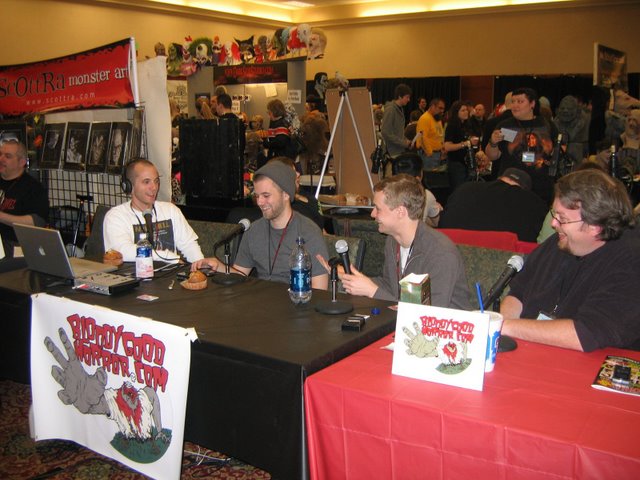 Horror Hound Weekend 2009 Recap
Since our first Horror Hound Weekend as a full group (aka the first time we all met in person), the Bloody Good Horror crew has been counting the days to our reunion. That time has come and gone, and we are now stationed in our individual corners of the country recovering from White Castle overload and feats of obscene alcohol consumption. Despite our current biological woes, we all had a great time, and even got to meet a member of our gang who up until 48 hours ago was a complete enigma (wrapped in bacon smothered with Baconaise). Since my brain can't handle recounting every single quip and unforgettable moment from Horror Hound Weekend Indianapolis 2009, I decided to compile a digestible list of the "10 Things You'll Only see at Horror Hound Weekend," with pictures!
---
10. Hours Upon Hours of Hula Hooping
There was a bit of Hula Hooping last year, but it was contained to one night. This year, I would estimate that there was approximately 10 hours of gyration between Friday and Saturday. In the middle of it all, I managed to make an attempt, only to quit and continue doing my "worlds two tiniest joints" dance around the fallen hoop. If you missed that legendary jig in person, consider yourself lucky because I have a tendency to retire each one of my stupid dances within a year's time.
9. A 7 year old having his first experience viewing bootleg erotica
Pawing through the Saturday rush, I stumbled upon an amazing scene at one of the handful of tables littered with bootleg DVD's. In front of that table was a man transfixed on the wares, holding the hand of a boy who was obviously his elementary-school-aged son. In his sons other hand was a copy of "Mondo Topless." Yes, THAT "Mondo Topless." I'm sure that many of you have (cough) accidentally stumbled upon porn at a young age, but who among you can say that you were holding your Dad's hand when it happened?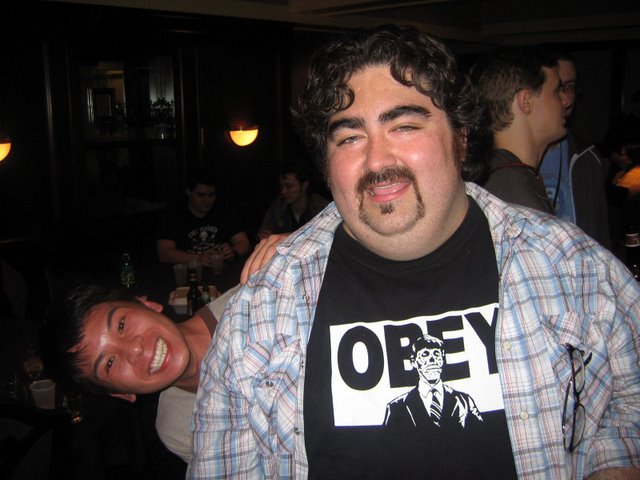 Where'd he go? Oh wait, there he is!
8. Andy NOTLP drinking alcohol even though he's allergic to it
This year's HHW was the first time any of us met Andy from Night of the Living Podcast, and as we expected, he rocketed straight to the top of all of our favorite lists, even leading me to demand that someone take me to the nearest state where "special marriage between men" is allowed so that we could tie the knot. We also nearly lost him shortly after we met him, because he decided to tempt fate and drink a Midori sour (see #5) in order to prove to us that he was in fact allergic to alcohol. He's a ballsy little Asian man, and thankfully survived despite some redness and a firey forehead. Andy, if you're reading, we accept you!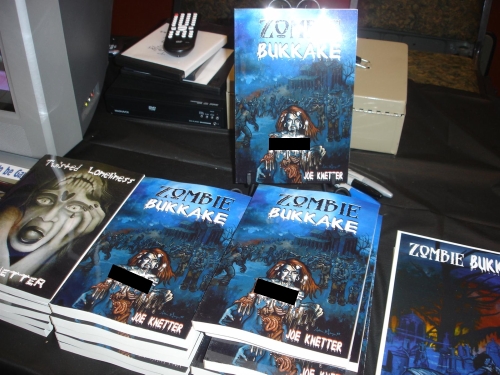 7. Zombie Bukkake
You can probably get this book somewhere else, but I doubt you'll ever see so many copies side-by-side. Ew.
6. NOTLP Meat Bag
NOTLP are convention vets in the truest sense. When they showed up with a gym bag full of salami, cheese, pork rinds, and yes, Vegemite, I thought that it may be overkill. Needless to say I changed my tune because if not for our bosom buddies' nurturing instincts, I may have never kicked my hangover on Saturday. A secondary thanks goes to their fans who give them (and us!) treats, because lord knows we need fuel to be some damn peppy and entertaining all the time!
5. The true origin of "The Secret of the Ooze"


"Ninja Turtles 2: The Secret of the Ooze" is one of my favorite movies from childhood. In the movie, there's a scene where you see all of these fancy chemicals mixing in a high-tech 90's science lab. As a child, I often wondered what sort of chemicals make up the luminous green ooze. Thanks To Louis Fowler, I now know what they are: Midori (watermelon liqueur), sour mix, and maraschino cherries. That's all he drinks, and now I know why he gets his otherworldly power from. He even snores a bit like Rahzar (right), which explains a lot.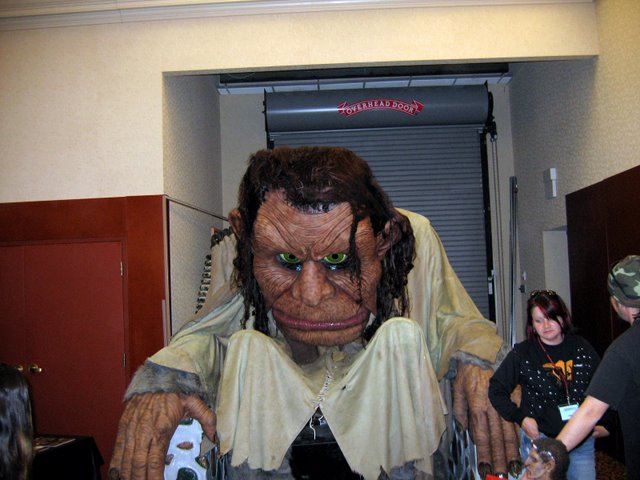 This is completely normal
4. A 20-foot tall animatronic troll
I'm sure that many things have passed through the cargo bay door of the Mariott East in Indianapolis. However, I think that this may be the first time that something like this squeezed through those doors. Very few things startle me enough to instinctively yell "What the fuck is that?!," but I'm not sure what else a person says when they see that thing being rolled towards them. Eric seems to think it belongs on stage at the "Up in Smoke" or "Family Values" tours of the late 90's. I can't say I disagree.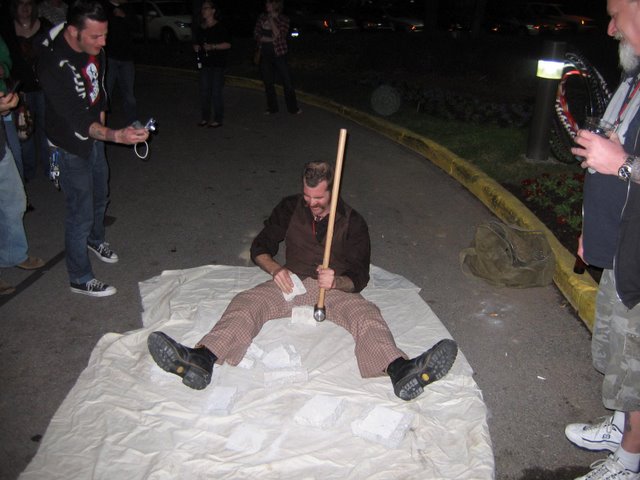 3. A man sitting just outside of a hotel swinging a sledgehammer at a cinder block that's precariously perched just in front of his ballbag
It happened. I don't know why it did, and I'm not so sure that I ever want to.
Casey's adorable "recording face"
2. Corey Haim playing the bongos and freestyle wrapping...at the same time
Horror celebs and strange musical endeavors go together like White Castle and death stink. Last year, we were treated to the undeniable rock 'n' roll something of Reggie Bannister, and this year, I thought that we were just going to see Ari Lehman (kid jason from the "Friday The 13th") and his keytar-aided band "First Jason." Although I missed that due to #1 on this list, I thankfully did not miss the most memorable musical performance of the night (next to us humming the Jurassic Park theme song before doing a round of shots). I don't know where the hell Corey #2 (or #1 if you ask him) got these bongos from, but boy did he beat the living hell out of them. The rapping, as it turns out, was just an added bonus to the palpitating rhythms created by his soft child-star hands. This sort of thing truly has to be seen to be believed, and thanks to Casey (pictured), we shall hopefully be seeing that very soon.
1. A live performance of the Bloody Good Horror gang's unfaltering love for one another and their fellow podcasters
Louis landed on the convention floor at around 4:00 PM on Saturday. By 9:00 PM, we had already discussed pop music, which fine cheeses that we enjoy, and what movies make us cry every time. I will not share any of these things to protect the guilty, but I will say that if you are interested in what makes our softy hearts tick, you'll likely only get to see it once a year, and that's at Horror Hound Weekend. We spend a lot of time busting each other's balls and butting heads, but at the end of the day, the motley crew of writer's and contributors to our site all genuinely like each other and can't help but have a great time hanging out.
Not only were we lucky enough to reunite with our old friends from Night of the Living Podcast, Drunken Zombie and Indianapolis in general, but we were also finally able to put faces on the voices of Brother D and Miss Bren from Mail Order Zombie and Andy from Destroy the Brain. I often tell people that part of what makes this community so awesome is that after listening to the exploits and opinions of the podcasts you listen to week after week, you really begin to feel like friends without even knowing it (sniff). Horror conventions aren't typically known for their friendly hangouts, but that's one of the things that makes Horror Hound Weekend that much different and that much more enjoyable. On behalf of Bloody Good Horror and all of our extended Horror family, thanks to everyone that came out to support us and hang out, and we can't wait to see you next year!
(For those of you who are interested in pics of the rest of the weekend, Casey has compiled a Horror Hound Weekend 2009 photo gallery)