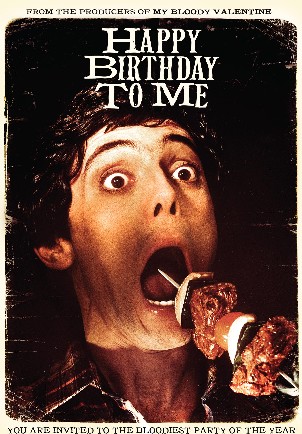 "Happy Birthday To Me" on DVD, With Original Score?
I'm been meaning to see this slasher classic, and it's about to get a lot easier to see it in it's intended form. "Happy Birthday To Me" was released on DVD by Columbia in 2004, but with crappy cover art and a disco soundtrack.
Everything I've read claims Columbia couldn't afford to license the original score or poster. Fans of the film have been upset ever since. Anchor Bay has listened, and on October 13, 2009, they are releasing a new DVD of the film with the theatrical score intact and original poster as cover art! They're saying pre-orders will be available in September, and no word on special features yet.
As the theatrical ads at the time said...
...six of the most bizarre murders you will ever see!
The image above is the original poster that Anchor Bay's using as the new cover art.
I've heard this film referred to as a non-Italian giallo both in an Italian horror cinema class and in the Amazon reviews - does anyone who's seen it have some thoughts on that?