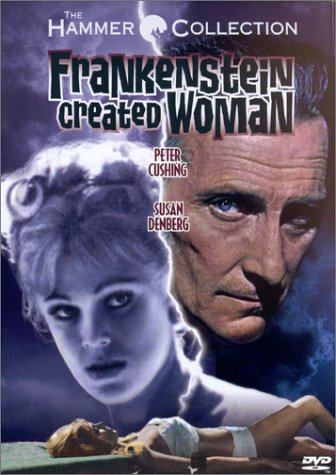 Hammer Horrors: Frankenstein Created Woman
In the spirit of Eric taking a stroll down nostalgia lane with his 'Re-Education' series, I've decided to take a walk myself. I've been a long time lover of Hammer Studios, the UK's home of horror throughout the 50's, 60's and 70's. With their age and unique flavor of horror, I figured it was a good opportunity to share something that not so many horror fans are familiar with these days.
To kick things off, I give you Peter Cushing in Frankenstein Created Woman.
The Baron Frankenstein is a good man, with a passion for science and…well, science. His tastes drift a little to the eccentric though when he chooses his lab experiments. His latest is a device to trap the soul of a dead person, preserving the soul. When the Baron's faithful assitant Hans is wrongly executed for murder, Frankenstein puts his theories to the test and captures Hans's soul.
So what is a mad scientist to do with a trapped soul? Well find a new body for it of course! It just so happens that Hans's scarred and crippled girlfriend, so distraught at the execution of Hans, throws herself from a bridge and drowns herself to join him. Never one to look a gift horse in the mouth, Frankenstein repairs her broken body, and places the soul of Hans inside. Soon, as Hans becomes aware, he uses the body of his dearly departed to enact his revenge on those who framed him for murder. Villagers revolt, storm Castle Frankenstein, (Well, house of Frankenstein Really) and soon we're on a headlong rush across the British countryside to keep the beautiful Hans from killing again. (I'm so confused)
"Frankenstein Created Woman" is chock full of gothic atmosphere and Peter Cushing. Where Christopher Lee was Hammer's trademark Dracula, Peter Cushing was their iconic Dr. Frankenstein. A man of many faces during the Hammer Era, Mr. Cushing seldom failed at delivering a top notch performance, and Frankenstein Created Woman does nothing but enforce that record. Single minded and utilitarian in his take on Dr. Frank, Cushing bypasses the zany and manic of Frankensteins past, and instead aims for a man that is cold and calculating, with a high disregard for human life when it comes to furthering his research.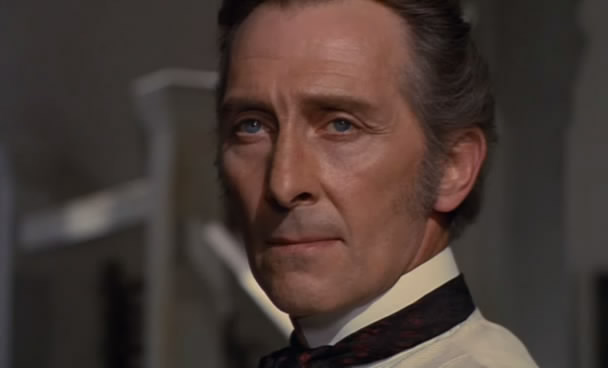 Our plot for "Frankenstein Created Woman" focuses more on the monstrous disregard of human life brought to life by Peter Cushing. Seeing the wrongful execution of his trusty assistant does nothing to sadden the Baron, who instead jumps straight to his calculations to obtain the body in the needed amount of time to operate his soul capturing device. Reconstructing to he scarred Christina, she transcends a sad and distraught young girl, to being a product of the Baron's work, and treated as such. Nothing bypasses the importantance of the man's experiments. Nothing.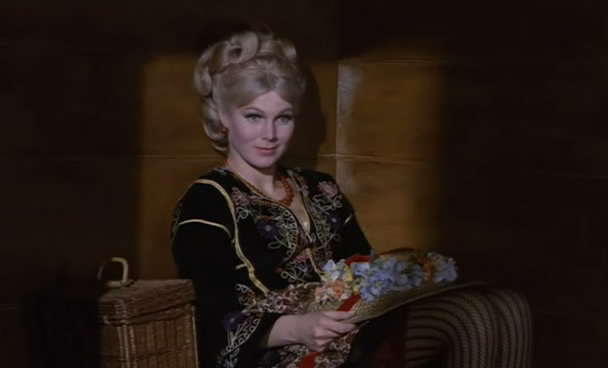 And that folks, is why my love for Hammer Horror runs deep. They were the UK's answer to our own monster movie classics, remakes essentially, but they put in the effort to make them unique. Adding twists and turns to familiar plots, they made the stories their own. In addition to this the ladle on heavy doses of atmosphere to suck the viewer in and then top it off with humanity. The humanity is the key for Hammer Films; their evil geniuses aren't inherently evil. Dr. Frankenstein is just a curious guy doing his scientist job.