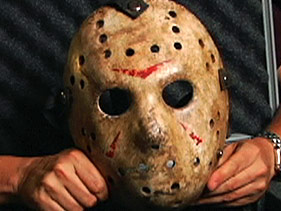 First shots of Jason's mask!
Here is the first shot of Jason's mask in the upcoming remake/reboot of "Friday the 13th" currently in production over at Platinum Dunes. I missed this in the news this morning, but I wanted to post it mainly because I really think they nailed it. It's not tiny and eroded like in "Jason Goes To Hell" or "Jason X", and it's not oddly shaped like in "Freddy Vs Jason". This is old school, circa parts 3 or 4, and it's sweet.
I haven't been keeping up with every little detail on this film b/c frankly, it's not all that important. This though I thought was cool. What do you guys think?