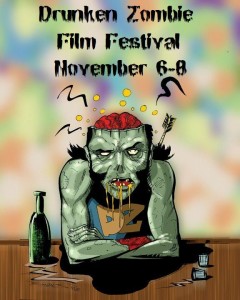 First Annual Drunken Zombie Film Festival
After a screening of "It's My Party And I'll Die If I Want To" and "Zombie Apocalypse" last year the good people over at Drunken Zombie decided to go balls out and put on a full film festival this year. They're currently accepting entries from independent horror filmmakers for the "First Annual Drunken Zombie Film Festival" which will take place on November 6-8 at the Peoria Theater in Peoria, IL. Apparently the theater is a "Brew and View" which means they have food and booze on hand for you to enjoy while you watch. If they put in strippers it would be the second greatest place on earth.
Anyway there is no entry fee so all you hot young indie film makers out there have no excuse for not entering in your feature or shorts. Check out Drunkenzombie.com for more info.