Eurotrash Island Vacations
The success of euro exploitation films in the late seventies and early eighties opened a few new geographical horizons to the phalanx of filmmakers staining their hands in the bloody depths of the continent's wicked watershed. Deodato, Lenzi and Michele Massimo Tarantini all ventured into the Amazon. Sergio Martino went to Sri Lanka while a few others went in search of remote island locations. What say we look at a few European coastal jewels from these purveyors of fancy filth?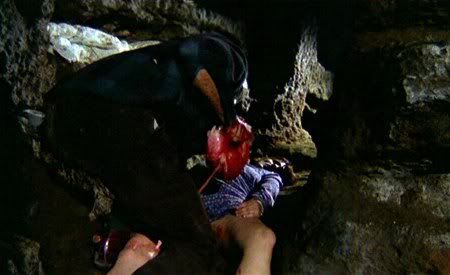 "Anthropophagus" 1980 dir. Joe D'Amato
Okay, so if you know Joe D'amato you understand that as a director, the man was more than a little challenged in some areas like, well…quality. A very talented cinematographer; as a director Joe never seemed to sweat the small stuff, which was a problem.
"Anthropophagus" is not an oasis in his catalog in this respect. But the presence of some intermittently horrid effects work and the (as always) flammably wooden Tisa Farrow, don't make George Eastman's performance as the title fiend any less enjoyable. A big creepy cannibal that has eaten a whole Greek island into extinction, what's not to like?
"¿Quién puede matar a un niño?" aka ("Who can Kill a Child?") 1976 dir. Narciso Ibáñez Serrador
Too good to be called trash; Serrador's work is a quiet masterpiece of tension. The sonic universe of this film alone makes it worth the watch. The story of a vacationing couple trapped on an island of murderous cherubs is simple, but the vague nature of the kids' motivations leaves the viewer sitting with their unease for the majority of the film. If Fabrice Du Welz's "Vinyan" is in the same neighborhood as this, the film that inspired it, we're in for a treat. Take my advice and get this one before you see "Vinyan".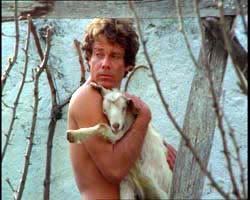 "Island of Death" 1975 dir Nico Mastorakis
Nico Mastorakis has given us the sleaziest island get away (including Joe D'Amato's "Porno Holocaust") with this 1975 trip to Mykonos. Christopher and Celia are just a couple of young lovers from the continent, trying to find a place where they can indulge in their pastimes, which include bestiality, weirdly religious hate crimes involving burning , paint asphyxiation and airplanes, golden showers, rape and… why spoil all the fun? This movie made my wife swear off eurotrash forever. Seriously, if you are not easily offended, go get this tonight. Oh and if you know where I can get my hands on the theme song, I'd be very grateful. "GET THE SWORD!!"
More fun with the Anthropophagus