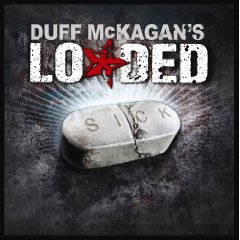 Duff McKagan's Loaded - "Sick" review
Guns N Roses just seems to be one of those bands that won't go away. Not counting "Chinese Democracy," the band hasn't had any relevance in fifteen years, and yet the name just seems to keep popping up. Lately, the cast of this wayward soap opera has been prominently featured throwing mud to and at each other in an incessant cycle of "he said, he said."
In the midst of all this, Duff McKagan has thrown his hat back into the solo project ring with his second album since 2001. Duff McKagan's Loaded has been making the rounds, been interviewed by any number of radio jocks, put out a couple videos, supported or been featured by a small handful of tours, and have dropped an album called "Sick" on the world. With the way the hype machine has been banging away, you would think this would be the album to end all albums. In the end, "Sick" is…pretty solid. It's not a knockout punch that's going to change the world, but it does a fair number of things right, and has no serious failings.
The overall sound of the album is remarkably consistent. Too often in solo projects, the direction wanders, trying to be too many things at once (*cough* Wellwater Conspiracy *cough*.) That never happens here, Duff has certainly crafted a singular sound for himself.
The music is straightforward rock and roll, without a lot of frills or gimmickry. In a world of overproduction, computerized effects and the dreaded auto-tuner, that can be a refreshing change of pace. In that regard, the band is in step with acts like Rev Theory or Theory of a Deadman. The production is well blended and the instruments compliment each other and share the space well. While perhaps never pushing the accepted boundaries of rock, "Sick" is an album based solidly in the roots of an era largely gone by, when you didn't have to reinvent the wheel to produce a sound that listeners could enjoy.
A lot of the foundations here are well built, as the band doesn't try to do anything they're not comfortable with. Songs like "Sleaze Factory" and "Flatline" have simple hooks that catch your ear, and are played crisply with a decent balance. Funny, in certain ways "Flatline" reminds me of the Fireball Ministry song of the same name. Let me be clear, they are two different songs. Duff also gets a chance to display a shadow of his punk roots on tracks like "The Slide," "I See Through You" and "No More." They pound along and make the listener sit back and tap his/her foot for a minute.
"Sick" does get a few demerits. While Duff's singing voice is certainly passable, the lyrics themselves aren't going to give Thomas Aquinas a run for his money. There are certain points where it seems as though a lyric might have been picked for its rhyme more than its meaning. Also, the album does lose some steam in the second half, and the later tracks tend to bleed together without a lot of distinction. Also, fair warning, there are a couple of ballads. You know how I feel about ballads. (I walked out of a Black Label Society concert during an acoustic sing-along of "Mama I'm Comin' Home." That, among other reasons, but that was certainly in there.) And, as I already stated, if you're looking for music that's revolutionary, this might not be for you.
In the end, this album carries value because it's an album that's going to be in a jukebox in a deep-dive bar somewhere, and there's going to be that one unfathomably hot chick who absolutely loves it. So, points there. If you're looking for serious heavy metal, or what should have been the next logical progression of Guns N Roses, be careful with this one. But if you simply haven't experienced musical satiety since the last Foo Fighters album, give this a spin. Either way, Duff's come a long way since his work with the Fartz.