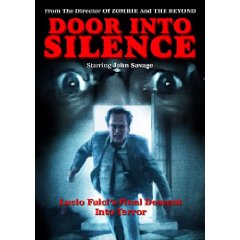 "Door Into Silence" Comes To Region 1
Celebrated horror director Lucio Fulci's final production, the less-than-stellar "Door Into Silence," will make its Region 1 debut on June 30th courtesy of Severin Films, the edgy genre-friendly distributor responsible for giving Vidal Raski's ultra bizarre cult favorite "The Sinful Dwarf" a much-needed home on DVD. Your desire to purchase this admittedly dodgy motion picture will depend greatly upon your tolerance for John Savage, car chases involving funeral hearses, and half-baked psychological terror. In other words, it's probably better suited to Fulci completists than anyone else.
Here's a quick synopsis from IMDb:
Successful businessman Melvin Dovereux is caught in a traffic jam caused by a funeral procession. Soon he is haunted by visions of a hearse chasing him and a woman in a sports car. Could the funeral procession actually be for him?
While the film isn't the greatest cinematic treat Fulci ever produced, it's still worth a visit or two. The price tag is decent -- a few of my favorite sites have it listed as $14.99 -- though I haven't heard anything regarding special features as of this writing. That, of course, could change by the time summer rolls around.
If you're still excited, take a peak at the Severin Films website for more information.