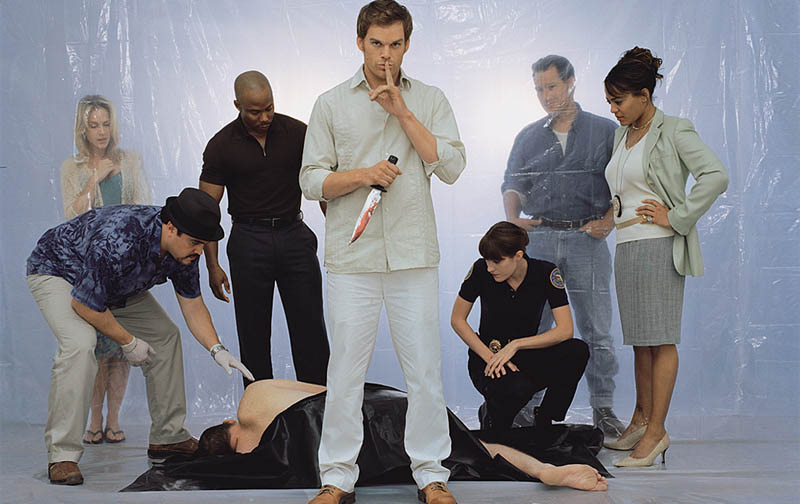 Dexter Season 3 DVD Contest!
Hey there horror fans, guess what? We're giving away copies of "Dexter" season 3 on DVD!
Enjoy Showtime's most-watched original series in its horrifyingly intoxicating junior season, when DEXTER: THE COMPLETE THIRD SEASON slays the competition on DVD August 18 from Showtime Networks, CBS Home Entertainment and Paramount Home Entertainment. Both sets include all 12 captivating third season episodes plus access to a host of cunningly clever bonus features. Led by the riveting performance of Emmy® and Golden Globe® nominee Michael C. Hall (Six Feet Under) as Dexter Morgan, a vicious serial killer on the right side of the law, this provocative crime drama deftly combines high thrills and razor-sharp wit.
DEXTER: THE COMPLETE THIRD SEASON features an impressive ensemble cast that includes Julie Benz (Angel), Jennifer Carpenter (The Exorcism of Emily Rose), Lauren Vélez (Numb3rs), David Zayas (Law & Order) and James Remar (Sex and the City). The third season of DEXTER is highlighted by a special guest appearance by Jimmy Smits (The West Wing) as Assistant District Attorney Miguel Prado, whose own keen instincts may endanger Dexter's vigilante work. With access to special features including cast interviews plus two episodes each of Showtime's acclaimed hit series United States of Tara and The Tudors, DEXTER: THE COMPLETE THIRD SEASON will be available on DVD for the suggested retail price of $47.99 US and $52.99 CAN.
You guys know the rules. Hit up our contact page and send us an email with "Dexter Season 3" in the subject line. The contest will end on Monday August 31st, 2009 at 11:59pm. Winners can only be from the Continental United states. Good luck!