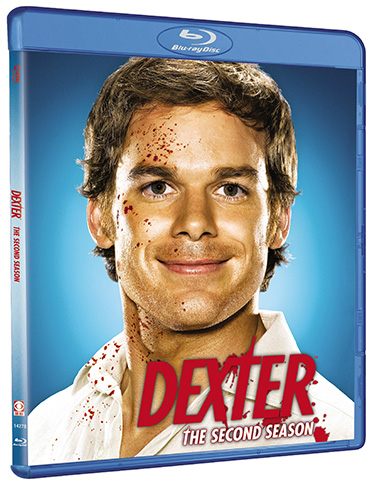 Dexter Season 2 Coming to Blu-Ray
CBS Home Video announced today that Season 2 of Showtimes serial killer epic "Dexter" will make its way to Blu Ray on May 5th!
HOLLYWOOD, CALIF. – Revisit Showtime's most watched original series in its darkly intoxicating sophomore season, when DEXTER: THE COMPLETE SECOND SEASON slashes its way onto Blu-Ray May 5 from Showtime, CBS Home Entertainment and Paramount Home Entertainment. The three-disc set includes all 12 riveting episodes and BD Live capability to access a host of delightfully twisted special features.
With the capacity of Blu Ray, "Dexter: Season 2" is bound to look lovely with its copious amounts of blood red splatter! DVD fans of the show have already had their fix delivered to them last fall. Thankfully, you Blu Ray devotees finally get your own.
For the technical specs, it appears that CBS is going to pack the disks full as well. Included are:
DEXTER: THE COMPLETE SECOND SEASON is a three-disc set presented in 1080p High Definition with English 5.1 Dolby TrueHD and Spanish 5.1 Dolby TrueHD sound. The Blu-ray is not rated in the U.S. and rated 14A (Gory Scenes/ Brutal Violence) in Canada. The total running time is 10 Hrs., 36 Min. The DVD disc breakdown is as follows:
Disc One:
• It's Alive!
• Waiting To Exhale
• An Inconvenient Lie
• See-Through
Disc Two:
• The Dark Defender
• Dex, Lies, And Videotape
• That Night, A Forest Grew
• Morning Comes
Disc Three:
• Resistance Is Futile
• There's Something About Harry
• Left Turn Ahead
• The British Invasion
• BD Live Special Features
• "Blood Fountains" Featurette
• Dark Defender Series
• Podcasts
• First two episodes of Showtime series Nurse Jackie
• First two episodes of Showtime series United States Of Tara
The "Dark Defender" web series had a pretty strong following during season two, and while they aren't really related to the dark turns of Dexter Morgan, 4 other Showtime shows packed in is nothing to shake a stick at. Including ep's of their other shows on their DVD releases is a tact that Showtime has employed before, and it looks like they're extending that to Bluray. Check all this out May 5th.