Concert Review: Rockstar Energy Drink Mayhem Festival – The Jagermeister Stage.
The Rockstar Energy Drink Mayhem Festival is an event practically out of its time. A traveling commercial, musical carnival in the era when all merchandise is available online and every conceivable form of entertainment, from live performances to shocking freakery, can be accessed by those with a broadband connection. Beyond that, it is also one of the last of the dying breed of road-bound music festivals, surviving in the post-Ozzfest, re-created Lollapalooza era. Yet, it continues to thrive, partially because it's essentially the only game in town, and partially because it brings together so many fragments of the metal audience.
Mayhem Fest, parenthetically, is also a fantastic place for people watching, as all tenets of fashion are (rightfully) thrown out the window, there's almost guaranteed to be at least a little blood, and there are plenty of people whose tattoo artists appear to have had either exceptionally good or extraordinarily awful days at the office. I saw one girl in particular who appeared to have a tattoo of Ludwig van Beethoven on her leg. As far as tattoos of classical composers go, it was pretty good. Somehow though, I'm not sure that's what it was supposed to be…
Playing the so-called "second stage" is no easy task. For one, you're playing in direct sunlight. For two, you've been asked to rock a truncated set. For three, the crowd almost invariably is interested in you, but you're not why they bought a ticket, and they're saving their energy for cooler temperatures and bigger (not necessarily better) names.
That's a tough hand to play, but for those with the deft skill to work those cards into a win, some of the day's most memorable moments can come from the second stage.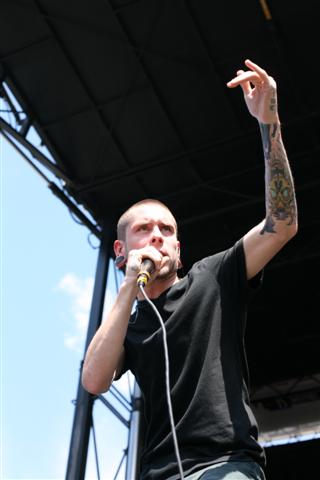 Following solid performances from STEMM and I, The Breather, the sweltering heat gave rise to Whitechapel, and the first major label set of the afternoon. The Tennesseans didn't take long to get into their act, using their thirty minute allotment to pound through as much loud, fuzzed out metal punishment as they could muster. Festivities began with a frantic recitation of "Possession," and wasting no time, the band barreled through "The Darkest Day of Man," and crowd favorite "Exile." Shrugging off the heat and humidity, Whitechapel set the tone for the bands that were to follow, highlighting their high-energy effort with "Section 8."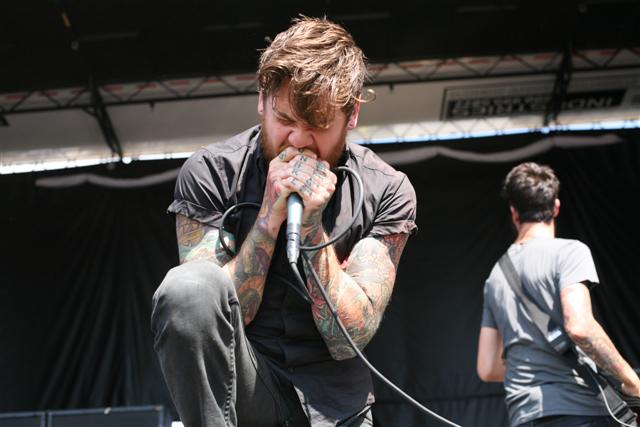 Inheriting the stage at the sun beat down on the concert goers and bands alike was The Devil Wears Prada, and the crowd anxiously awaited more music with whet appetites. What proceeded was a set borne from the band's idiom; a mishmash of the melodic and the harsh, layered onto and around each other, at times intelligible and at others not. Vocalist Mike Hranica gave it his all, throwing his body around the stage, subliminally daring the crowd to keep up with him. Their intense but workmanlike set came to a head with a crowd sing-along of "Danger: Wildman," and having consumed that, the crowd was ready for the next act.
On came As I Lay Dying, and the crowd's response was immediate and loud. Their cheers rose to a crescendo as Tim Lambesis took the stage, he being one of the faces of this new generation of American metalcore. Yet, this wasn't just another set of banging and smashing, as Nick Hipa's guitar immediately created separation from the noise during "Condemned" and into "94 Hours." For a band who had never truly reached me on record, their live performance was not to be missed. Exercising full control of the crowd, Lambesis guided each party involved through his band's powerful but direct set, highlighting with "Cauterize" and finishing with "The Sound of Truth." I was suitably impressed with a band who I did not expect to make an impact on me. That's the sign of a remarkable set.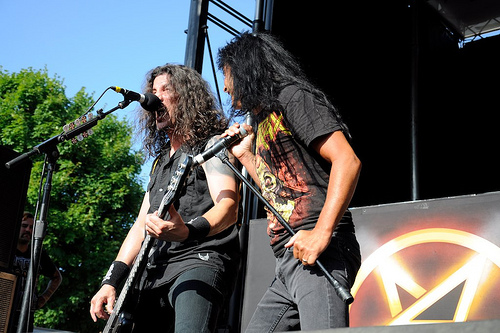 Finishing the second stage was metal-titan-come-lately-and-again Anthrax, still in the throes of an impressive career revival, the likes of which is difficult to come by in heavy metal. It's apparent that no one is a bigger fan of Anthrax's new album than Anthrax, as the band happily fed the crowd their newest single "Fight 'Em Till You Can't." Other than that, the set list was as one might expect. Ever the partying thrash band, Anthrax had said in pre-tour press that their intent was to treat this set like the Ramones used to their own, pumping out hit after hit and not leaving time for talking. (It bears mentioning that no one did a lot of talking; the necessity of short sets during a festival saw to that.) For seven songs, it was a panoply of fan favorites one right after another, beginning with a crowd-stirring, always popular "Caught in a Mosh." Aside from the one new track, it was a speed-injected, gleeful walk through the Anthrax museum, with "Got the Time," "Antisocial," "Indians," "Madhouse" and finally, as always, "I am the Law." What makes Anthrax stands out from their brethren, beyond the fact that Scott Ian seems to have more pure fun on stage than almost anyone, is that Anthrax never seems to exhaust their enthusiasm for playing their hits. It's an admirable thing to see a band who gives the crowd what they want not solely because the crowd wants it, but because they actually enjoy playing it. This is a huge part of the hidden professional legacy of Anthrax that sees their standards survive to this new era, and ensures that their live set will always be a top-notch and gleefully fun experience.
To follow along with the Mayhem, scope this link from Day One, and keep watching.