Concert Review: GWAR, DevilDriver, Cancer Bats
It was, as Billy Joel famously sang, a pretty good crowd for a Saturday. Worcester, Massachusetts was enjoying the throes of the Rock and Shock Festival, a multi day event that had come down to this: Legacy of Disorder, Cancer Bats, DevilDriver and naturally, GWAR. Who else would be appropriate for such an occasion but those undisputed lords of shock and awe?
Legacy of Disorder was faced with the uphill battle of warming up a crowd that was decked out almost entirely in white shirts, awaiting the entrails-soaked carnage that would unravel much later in the evening. LoD is a new age thrash-type four piece who had made the journey all the way from New Zealand, and are led by Bill Goldberg (in truth, a polite gentleman named James Robinson, but now that's shaved his head, he looks like the former heavyweight champion on stage.) Legacy of Disorder didn't necessarily steal the show, but given the usual mediocre quality of GWAR openers, it was a refreshing surprise to see an act that played with competence and confidence, without resorting to cheap gimmicks or easy outs. Their set was highlighted by their pieces "Punish All," and the natural mosh pit anthem "March to Death." Said and done, a solid performance for a band acting as the evening's pace car.
I came into the show on this particular evening with a sense of anticipation about the Cancer Bats. I really enjoyed their album this year for its combination of noisy distortion and youthful enthusiasm. The band had taken the leap from being just another crossover hardcore band to being a full-fledged outfit with their own identity and power. I was hoping against hope that they could channel that success into a worthy stage performance.
And man, did they deliver. Undaunted by the crowd still filing in and the people's anticipation on acts later in the evening, Cancer Bats brought it with more fight and explosive emotion that any other band that had played the whole evening. It takes aplomb and supreme trust in yourself to be able to take on an indifferent crowd and make them come over to your side of the fence, but the quartet from Canada pulled it off and earned the cheers quickly. Their combination of power and on-stage kinesis was infectious, whether they thumped through new songs like "Bricks and Mortar," or old standbys like "Sorceress." In a moment that couldn't help but put smiles on the faces of those assembled, vocalist Liam Cormier asked "we're going to play a cover. Has anyone in Massachusetts heard of the Beastie Boys?" What followed was "Sabotage" on metal steroids, to the adulation of the suddenly sing-along crowd. Sure, it was shooting fish in a barrel in the Beastie's home state, but there's something to be said for having the wherewithal to use their home court to your advantage. That said, the whirling dervish that was Cancer Bats' set was fundamentally focused on their new sound, finishing their proceedings with a rhythmic recital of new album fireplug "R.A.T.S."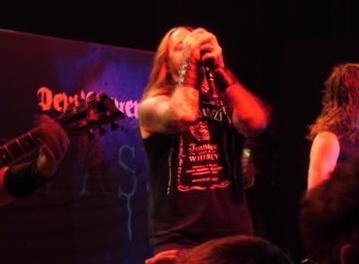 DevilDriver is a band I've had a long and curious relationship with as a fan. I can't honestly say that I've ever been a fan of their albums, nor can I say that I would go out of my way to defend them. Yet, the band is filled with musicians I respect for their talent and longevity, as well as their ability to gather a loyal fanbase who are fervent in their appreciation of DevilDriver. The band from Southern California has breezed through my town a few times (regardless of which town I was living in at the time) and I had seen them a couple instances before, most recently on the road with Danzig. Let me tell you; DevilDriver doesn't disappoint live. Their show is full of fury and pumped to the nines with testosterone. Each song they elect to play, whether "Dead to Rights" or the non-stop "Clouds Over California" is a four-minute exercise in mosh pit survival, stirring the adoring crowd into an easy frenzy. Dez Fafara knows the formula for giving metal fans what they want and he capitalizes on the attention the crowd gives him by coercing them to take a greater part in the show. He passively leads them into the fray for songs like "Meet the Wretched," orchestrating the crowd's response without ever leaving the stage. The masses' energy feeds back into the band, creating a cycle that grows and grows until the set ultimately must come to an end. Were it not for time constraints, I have no doubt that DevilDriver could tap into the energetic atmosphere and keep the pace for a full two hours.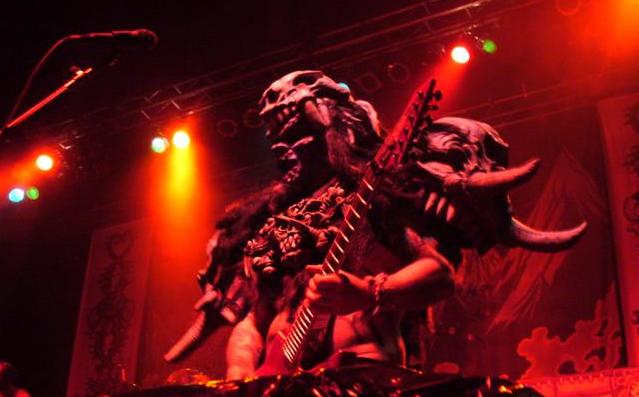 GWAR. One would normally wonder what there could possibly be left to say about a band who has stunned, shocked and stained audiences since the mid 1980s. Yet. This was a GWAR show and tour unlike those that had come before. As the lights fell and the band monsters emerged, everyone in attendance had the same inexorable thought:
'I wonder how good they'll be with a new guitarist?'
Rest assured, GWAR faithful; your band is still your band. There was no protracted introduction on the mic to the form of Pustulus Maximus, but rather, the band allowed him to prove his mettle by running a gauntlet of Cory Smoot's best riffs and GWAR crowd favorites.
Letting Pustulus essentially begin his night with "Womb With a View" was GWAR's way of showing that the new kid on the block could shred with the best; that the band would soldier on after losing a prized Scumdog in the worst way and not be worse off. The rest of GWAR, for their part, did exactly what they should have done: be GWAR. There were all the characters that we've come to know and love, Oderus and Balsac and Beefcake and Jizmak, all going about the normal business of beheading characters and bathing the audience in torrents of fluid. The names in the costumes may have changed some over the years, but the characters themselves have value and are familiar in their own enjoyably gross, inimitable way. The plot of this year's GWAR show revolved around fighting God, but essentially the plot was to show that GWAR was still GWAR, and give the crowd everything it had come to know as GWAR.
They paraded a panoply of GWAR standbys, cruising into "Saddam a Go-Go" followed by "Bring Back the Bomb." New classics had their day as well, as the band ripped through a frankly awesome "Metal Metal Land," to my mind the best song they've ever written, particularly as a combination of lyrics and music. Finally, perhaps fittingly, they closed their set with "Rock & Roll Never Felt So Good," a fitting tribute to everything GWAR had been and continues to be.
The encore was a twisted affair, perhaps even by GWAR standards, but was executed (pardon the pun) as only they could. Beginning with "Whargoul," the band put the entire cast of "Holliston" through the 'celebrity meat grinder,' and then when those people were gone, out came something no one expected. Danny Trejo. Machete himself. Into the grinder he went, following an ovation from the exultant crowd.
It was then that GWAR paid tribute to Smoot, performing a GWAR-esque (there's no other appropriate term for it,) version of "Carry on Wayard Son" in what could only be called loving memory. Following that, as if in affirmation and celebration of all we'd just seen, GWAR brought out the hoses, doused the crowd, led everyone in a sing-along of "Sick of You," and the night was over. As ever and as always shall be, GWAR was GWAR.