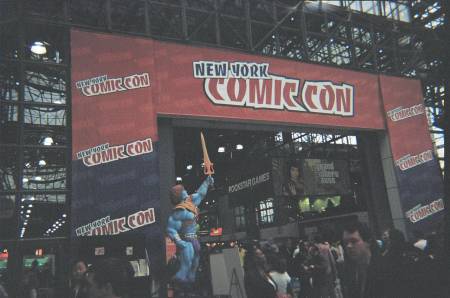 Comics Creepshow 27: NYC Comic Con 2009
As per every year at the New York Comiccon, featured at the Jacob Javits Center, many people were practicing the art of cosplay- the art of dressing up and acting like your favorite fictional character (just check out Christine's newest blog for evidence). There was an excellent Cobra Commander walking around, as well as at least four versions of Snake Eyes to give him a karate chop. Besides that, there were a few people sporting trench coats and masks decorated with rorshack paintings, in honor of the upcoming 'Watchmen; movie. Finally, there was one guy, sweating a bit, with grey tape, keeping the left frame attached to his glasses, rocking a white BLOODY GOOD HORROR tee.
Yeah, that was me.
You may have seen me stumbling around the overly crowded con floor. Perhaps, I handed you a BGH flier, and that is why you are here. Welcome. Now, lets get to the recap:
My first stop on the con floor was Podcast Alley, where over a dozen different crews of pod casters were packed in, interviewing weirdo's like your's truly. These pod casters have the same kind of dedication to their chosen escapism as Eric, Jon, Casey, and Mark do, but these guys prefer following men in tights, as opposed to guys with machetes. For the first time ever, I was interviewed on a podcast, by Sean Whelan of Raging Bullets. Just as I plugged BGH on their show, I will give a shout out to them in this column- If you like DC comics characters, like Batman, Superman, and the Flash, download an episode of Raging Bullets on Itunes.
In a daze caused by the rampant fandom around me, I stumbled upon the Scare Tactix Graphix booth. Scare Tactix is an independent comic book company that you most likely never heard of, but for any horror comic fan, their books are definitely worth checking out. My interview with two of their creators- writer, John O' Connor and artist, Jeff Clemens- made me want to research their company further.
I was pleasantly surprised to find that the art director of Scare Tactix Graphix is Tommy Castillo, one of the big guns of the horror/fantasy art world. Castillo has worked on such books as GRIMM FAIRY TALES and EVIL ERNIE, and has even been a part of a few BATMAN projects. According to the Scare Tactix site, Castillo has worked with George Romero and done drawings for the RPG, Warhammer. Mitch Hyman, who is the Scare Tactix Editor-In-Chief is best known for his book, BUBBA THE REDNECK WEREWOLF, and was also a part of the crew that put together Universal Studios' Halloween Horror Nights attraction.
At the Scare Tactix Graphix booth, I was the first person ever to buy a copy of their new book BLACK DAWN, that both Jeff Clemens and John O' Connor put together. BLACK DAWN features an interesting premise- it tells the tale of the survivors of an apocalypse, who are only able to travel at night, because sunlight has become deadly to humans. Artist, Jeff Clemens is similar to hundreds of the other exhibitors spread throughout the con floor. Jeff lives in New Mexico, but traveled all the way to New York City to spread the word about his book.
That is the beauty of this type of event, walking down the aisles you can strike up a conversation with artists and writers, who have worked for months to get their first issue ready for the Con, and then walking down that same aisle you can run into someone like Horror Comics superstar, Steve Niles. Niles was signing copies of his book CITY OF DUST along with HOTWIRE co-creator and artist Steve Pugh. I interviewed both Niles and Pugh, using a ghetto tape recorder, and then proceeded to take a picture of both of them with a disposable camera. Alas, a $12 camera yielded $12 results and that picture came out too dark to post here.
If you are interested in reading my Steve Niles and Steve Pugh interviews, as well as interviews with the Scare Tactix Graphix crew, check out my upcoming blog posts.
Niles and Pugh were sitting at the Radical Comics both which was also the first time the company had a both at NY Comiccon. The Radical crew members were walking around with their heads held high. This was for two reasons. The first being that Radical was just awarded "New Comic Publisher of the Year" for 2008 by Diamond Comics Distribution, the major comics distributor in North America. The second being that many of the books put out by Radical have been optioned for films, with big named directors, like John Woo, Peter Berg and Bryan Singer attached to them.
Throughout the day, I made my rounds to the various companies that put out horror comics, from companies that are trying to make a name for themselves, to companies that are already working on bringing their characters to the big screen.
After I was done schmoozing, I sat in on one of the dozens of panels that ran last weekend- a retrospective on the on the past twenty-five years of the Ninja Turtles. Where is the horror in that? I was the only one of the many men approaching thirty, who were eager to be a part of that "shellebration". What a weekend.
If any of this sounds interesting then get yourself to a Con, whether it is horror or comic book related. A con is the epicenter, where creative ambition and the tragedy of being a 25 + year old fan boy collide.