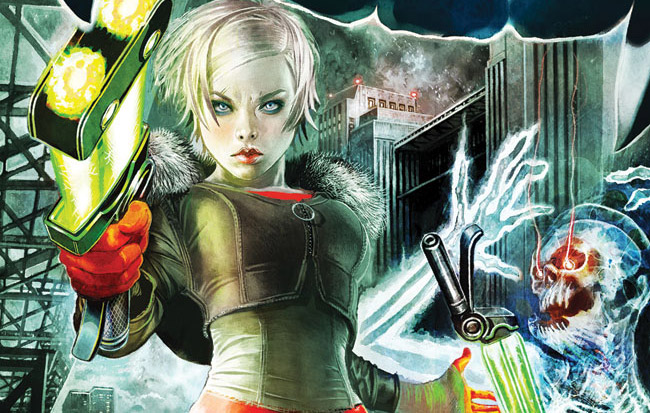 Comics Creepshow 26: Hotwire
After a week off, Comics Creepshow is back, and just in time for the biggest comics related event in NYC- New York Comiccon!! Are you going to be there? If you do show, keep your eyes open for a tall red headed guy, with duct tape on his glasses and a Bloody Good Horror tee shirt on - That's me.
One booth that I will definitely be stopping by is the Radical Publishing booth. For a brand new company, Radical is really causing a stir, delivering high quality material, based on high concept ideas, put together by some of the biggest names in Comics. I'm not just saying that because they send us their horror books. Steve Niles' CITY OF DUST and Steve Pugh's and Warren Ellis' HOTWIRE: REQUIEM FOR THE DEAD are two of the best titles on the stands.
We have covered CITY OF DUST extensively in Comics Creepshow. Now it is time to give HOTWIRE some love. Like I just said, HOTWIRE is the brainchild of Steve Pugh and Warren Ellis. Both are very famous for their Sci-Fi comic book work. Ellis has received a lot of praise, over the years, for his Sci-Fi news satire, TRANSMETROPOLITAN, and Pugh has drawn and written stories dealing with popular characters in U.S. comics, such as the X-men-in-training, GENERATION X, and the PREACHER villain, SAINT OF KILLERS, as well as big guns from across the pond, such as JUDGE DREDD and John Constantine, HELLBLAZER. The two Brits are a Sci-Fi/Horror match made in Heaven.
It shows in the pages of HOTWIRE. Our main character, Detective Exorcist and albino, Alice Hotwire, spits out snaky lines that only Ellis could script and the ghosts, er "blue lights" that she has to confront are drawn beautifully by Pugh. With one image, the "blue lights" can be both wonder inspiring and terrifying, at the same time.
The world that Alice Hotwire works in is extremely well developed as well, on both a technological level and a political one. In this dark future, taking a page from the scripts for 'White Noise' and 'Pulse', the spirits of the dead have been kept on Earth, due to the abundance of electrical currents, telephone signals and radio waves, going through the air. As a Detective Exorcist, Hotwire has to keep these spirits, or blue lights as she calls them, from terrorizing the living. Hotwire has some help with keeping down the blue light activity, however. Now, dead bodies are buried in ceramic coffins, that keep the spirits from rising and there are large suppressor towers placed in urban areas to block out spirits.
On the political side, we see the people of this future dealing with problems that might not seem too far off for us, nowadays. There is an overcrowding in the urban areas, and a high amount of tension between the immigrant community and the police force. Pugh knows how to script and illustrate such an environment, after telling tales set in the urban sprawls of MegaCity One in JUDGE DREDD.
Unfortunately, it seems as if someone or something is making the blue lights more powerful. To make things worse, this increase in blue light activity is taking place in an area of Hotwire's city that is closed off to the cops, an area smack dab in the middle of all the recent riots. Hotwire needs some muscle, someone to watch her back in this area while she investigates the blue lights. She enlists Detective Mobey, who was just recently made inactive, due to his involvement in a case of police brutality. Mobey is nothing like the vegan pop star he shares a name with. He is a short tempered, blue collared cop, the perfect foil for Hotwire and her loner, elitist personality.
Ellis sets up their relationship in the last few pages of issue one, showing that Mobey needs this case, just so he can have some work to do, and Hotwire is just barely able to tolerate him. Mobey is the perfect character to team up with Hotwire. Since he is so clueless as to what a Detective Exorcist is, he asks Hotwire all the questions the reader would be asking.
In comics, it is rare to find a compelling female character who is exceptionally intelligent but has also retained her femininity. Hotwire is one of those rare characters. Unlike many of the super intelligent characters Ellis has created, Hotwire is more intriguing than she is obnoxious. Hotwire is interesting enough of a character to bring me back next month. Hopefully then, we will get to see what is behind the rise in ghost activity. Besides that, the world Hotwire inhabits is interesting enough to keep me buying the rest of the issues, until this mini-series is over.