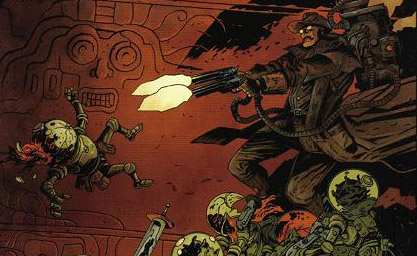 Comics Creepshow 21: Best Comics of 2008
Christmas and Hanuka over, and if you want to know what the song is playing in the back of your head, its 'The Final Countdown' by 80's super group Europe, rocking out for the final moments of 2008. On every web page you can pull up there are top 5 and top 10 lists for events of 2008. I know which one you consider the most important, and it is a good thing you came here. Here is your list of the top 5 horror comics that came out in 2008:
---
5) DEAD SPACE-
When you listen to comics pod casts, or read comic reviews on other sites, you may pick up on some of the hatred towards comics that are based on licensed properties. This makes a lot of sense, considering that most comics that are based on TV shows or video games are just bland shit. The comic based on the video game 'Dead Space' is a radical exception. Having horror comic master artist, Ben Templesmith, supply the concept art for the game served as the perfect link between the world of the game and the world of the comic. The creatures that Templesmith, designed for the game, the necromorphs, are even more disturbing in the comic, springing to life out of the dead bodies of the characters we have grown to care for over the course of the book's six issues.
Any book with Templesmith art is worth buying. What makes DEAD SPACE even more appealing is the philosophical and theological debate that is woven into the alien-taking-over-a-space-colony plot.
---
4) CITY OF DUST-
I have already mentioned the first two issues of this mini-series in Comics Creepshow. Also, if you like the book's author, Steve Niles, then you can sign up, on this site for an autographed copy of Niles' vampire masterpiece, 30 DAYS OF NIGHT. It would be impossible to make a Top 5 list of horror comics, and not feature something from the most famous and prolific horror comic writer out there. Out of the many Niles books that were on the stands this year, CITY OF DUST makes the cut, since it features a distinct change in Niles' style. Yes, there are vampires and werewolves in this book, but they are nowhere near as interesting as the dystopian future that the story takes place in. Look for my review of issue 3 next week.
---
3) FRANK FRAZETTA'S CREATURES
This year Image put out a series of one shot stories inspired by Frank Frazetta paintings. If you want to read my review of the Steve Niles written story, based on the Frazetta painting 'Dracula versus the Wolfman', you have to go all the way back to Comics Creepshow 2. That story was a fun read, but not nearly as entertaining as the story based on the Frazetta painting 'Creatures'. CREATURES was written by the 2008 comic's darling, Rick Remender, who is best known for his book FEAR AGENT. Remender took the picture, which featured a horse and rider, facing off against a horde of demonic looking creatures, and turned it into the zaniest alternate history tale in comics this year. Picture a steam punk version of 'Men in Black' with Teddy Roosevelt as the main action hero, and you can get an idea of the crazy territory that CREATURES covers.
---
2) THE WALKING DEAD-
THE WALKING DEAD was, by far, the most controversial horror comic of 2008. (Spoiler Warning) All it took was one page in issue 48 to prove that this is one ongoing comic, where literally no one is safe. WALKING DEAD scribe, Robert Kirkman, did the unthinkable, by having main character, Rick's wife, Lori, shot through the back while holding her newborn infant. Neither mother nor child made it out of issue 48 alive, thus proving to WALKING DEAD fans that Kirkman still has the ability, after almost 50 issues, to shock and disturb. It is still, after five years, the best ongoing horror comic on the stands.
---
1) LOCKE AND KEY-
This year, when it came to the King household, and comics, son beat father. 2008 saw both another 'Dark Tower' prequel and 'The Stand' come to life in comic book form. Though both mini-series, based on Stephen King books were excellent in their own way, they had nothing on the book by King's son, Joe Hill- LOCKE AND KEY. LOCKE AND KEY is, by far the best horror comic of 2008, and possibly the best comic in general for this year, as well.
Wizard- the guide to comics ranked Hill as the number one horror comic writer of 2008, and rightfully so. LOCKE AND KEY realistically depicts a family that is dealing with the violent murder of their father. Throughout the six issues of the miniseries, you feel the pain of the three main characters- Tyler, Kinsey, and Bode, three children who are more realistic than 85% of the adults depicted in mainstream comics.
The beautiful artwork from Gabriel Rodriguez doesn't hurt either. Rodriguez is able through his illustrations, to bring out the dual nature of the book, dealing with adolescent wonder/confusion and the dangers of the supernatural.
---
Well that is 2008, nicely sealed up in a thin plastic bag, with a white paper board, propped up against it's back, so that it doesn't get bent (get it? It is a metaphor for collecting comics using bags and boards. Oh forget it). Thank you for spending the last half of 2008 with me, going over the new horror comic releases each week. If you are a fan of a horror series that I haven't mentioned in this column, please tell me about it, in a comment. If you are a horror comic creator, send me an email telling me about your book. I want to showcase as many new books as I can, in this upcoming year!