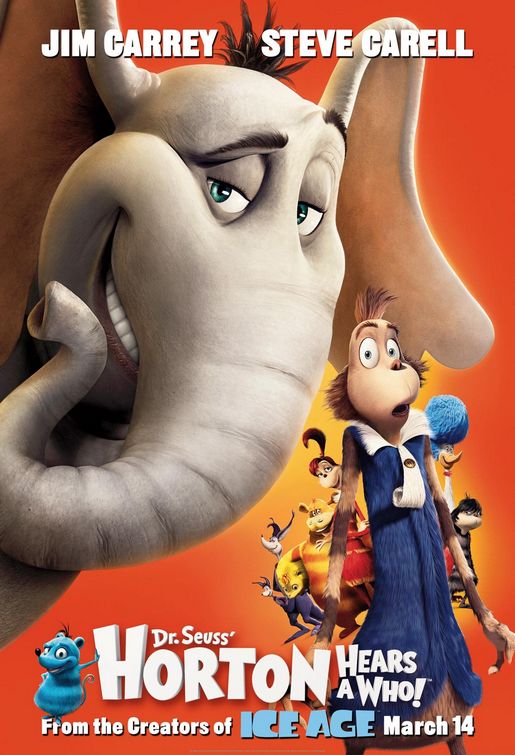 Box Office Boner - Horton Hears a Who
After months of listening to Jon blab about "THE BOX" on the Podcast, I've taken it upon myself to occasionally go out of my way to see at least one blockbuster a month and report back to the Bloody Good Horror nerd cave about whether or not it in fact deserves its accolades. Stay tuned for more!
Horton Hears a Who
Somewhat Relevant Thematic Tie-Ins:
Book Adaptations
Remakes
CGI
The Skinny:
As a child who's complete understanding of the Cold War was based on "The Butter Battle Book," it's safe to say I approached this film with a great deal of excitement and healthy skepticism. What I got was (mostly) what I was expecting, and some.
This film, on the whole, stays about as true to the charm of a Suess book as a CG feature can, even if it is somewhat lacking in the subtlety department. The wacky creatures, imaginative landscapes, and omniscient narration (though sparse) are all present and feel remarkably "suess-ian." I'll be goddamned if I didn't squeal just a little when I saw the big reveal at the end in all of it's humongous, twisted (physically, not metaphorically) glory. I could have dealt with more narration and actual readings from the book, but the use of passages from the book were well thought out and appropriately used throughout the film. There were also some parts where the classic line of the book ("An elephant's an elephant...") was played with in such a way that was an obvious nod to people that grew up with 'tha Doctor,' without being smarmy about it. Also, the loaded social commentary of Suess' original is here en force, relatively untouched, with themes about god, intelligent design, independence and acceptance sprinkled throughout.
You may also have heard that the film itself is beautiful. I can in fact, confirm this. The fact that there was an entire section in the credits dedicated to the "Fur" team should give you an indication as to how much care was put into this animation. Obviously any medium aside from cel-shading isn't going to give you the exact look and feel of the book (although there was a brief cutaway to a more "classic" 2D animation style), the team at this studio did an incredible job of bringing these characters to life. There were parts where I was actually had to do a double take and re-look, especially in the water and fur effects department. Some people call it distracting, I call it effective. I got a sense of the fragility of the Who world, and found myself wrapped up in the character movements and gestures. The physical "believability" of the characters really helped to make the ending of the film hit home, so much so that I almost got misty.
(This is the point where I go to the bathroom, splash water on my face, and remember that I'm writing about HORTON HEARS A FUCKING WHO. Jesus christ)
It's not ALL shits and giggles however. There were some amusing yet wholly unnecessary non-sequiturs that really drew me away, mainly the cutaway to a Samurai-Jack style animation sequence that although well done, felt forced and left me with an overall "what the fuck?" sort of feeling. I could also have dealt without the wacky music sequences, that felt very out of place in relation to the world in the same way that the Oompa Loompa techno dance party in Burton's "Charlie and the Chocolate Factory" felt a little too 2006/7/8 to be appropriate. I can also admit that it did take me a while to accept that the entire piece wasn't going to by rhymed, but once I was hooked to the characters, it became a non-issue.
Overall, I would say that "Horton" succeeds where many horror adaptations/remakes fail. It took a strong original piece, did it justice, and added in enough of it's own flair to make the film stand out strongly on its own. I would accept this film as a worthy companion to the book, and would have no problem showing it to my sprouts if and when I have any.
Intended Audience:
Children, Parents With Children
Extended Audience:
Suess fans, people under the influence of marijuana/Hallucinogens, people who get boners over water/particle/fur effects, children at heart
Worth it?
Absolutely
Author's Note: If you're interested in seeing this as a full time feature, or you have ideas for movies I should see/review let me know! Let it be said however, that I will never, EVER in a million fucking years, even under threat of Chinese water torture suspended over an active volcano, see "Never Back Down," despite its successes and advances in man-sweat technology.