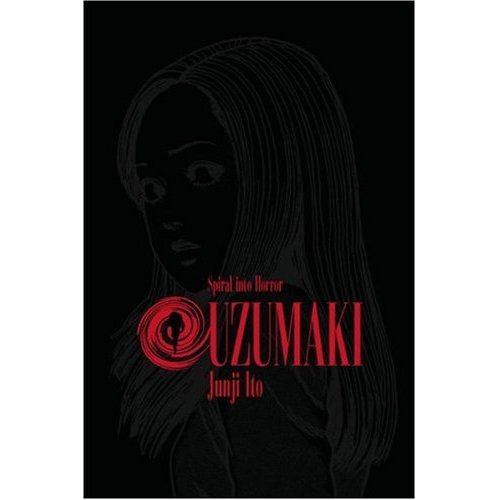 Book Review: Uzumaki/Spiral into Horror by Junji Ito (Manga)
Award winning manga artist and writer, Junji Ito produces another notable work of terror with his Uzumaki Vol. 1. Influenced by other Japanese artists such as Yasutaka Tsutsui (a novelist and science fiction author), Hideshi Hino (a manga artist), Kazuo Umezu (from whom Ito actually won his first mention from for a short story), as well as American writer H.P. Lovecraft, Ito mingles his admiration to create several spinning tales of crazed trepidation. Even readers who are not familiar with manga - or have only little/Americanized knowledge of such graphic novels (ie. Me and obsession with Sailor Moon and Dragon Ball Z circa the late 90's) will still thoroughly enjoy reading Uzumaki Vol. 1, especially if they are fans of the cringing Japanese horrors such as "The Ring," "The Grudge," and "Audition."
Set in the sleepy seaside town of Kurozu-cho, an extraordinary force is beginning to haunt the townsfolk. The uzumaki, or the spiral, is the mysterious life pattern of Earth and is infiltrating the daily lives of everyone in Kurozu-cho. Blissfully naïve and innocent, teenager Kirie Goshima relays the horror to the readers starting with that of her older and recently withdrawn boyfriend, Shuichi Saito's, family. Uzumaki Vol. 1 is divided into six chapters with varying tales of horror – from the escalating madness of Shuichi's family, first with father's infatuation with the spiral pattern (so much so that he sacrifices his own body to it) followed by his mother's terror of the design as she fears it will consume her like her husband in 'The Spiral Obsession Part 1 & 2,' a new student with a curious crescent scar that morphs into a spiral vortex in the presence of Shuichi in 'The Scar,' Kirie's own father's demented mania with the uzumaki designs in his pottery made from the clay dredged up from the cursed Dragonfly Pond in 'The Firing Effect,' the tangled fate of two young lovers who are so literally so wrapped up in each other it'll be the death of them in 'Twisted Souls,' and lastly Kirie's own battle with the spiral affliction as it takes over her body for its own desires.
The six collating stories are fully engaging with disturbing and beautifully drawn images that describe the story in gory detail on their own. The actual dialogue is somewhat lacking, in the sense that it is plainly terse and lacking in character development and any further explanation of the strange events occurring in the town. Despite the subpar conversation, the panel composition of Uzumaki carries the narrative and lends itself to the reader's own interpretations. A fast and fun read, Uzamaki Vol. 1 is like a collection of Tales from the Crypt stories save any cheesiness and quadrupling the scares.
**Note: There's also a film version of this, also titled "Uzumaki," which is directed by Higuchinsky and was released in 2000. I haven't watched it yet and I've read varying reviews and comments, but the YouTube clips are comically entertaining in a Japanese "Beetlejuice" kind of way.