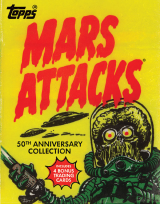 Book Review: Mars Attacks by the Topps Company
Mars Attacks
Publisher: Abrams ComicArts
"The Martian leaders voted and decided that Mars would have to attack the Earth."
IDW is in effect re-launching the Mars Attacks saga in 2013 with a series of one shots featuring everyone's favorite sadistic aliens battling classic comic characters (Popeye), robots (the Transformers), iconic 70's rockers (Kiss), and even the Ghostbusters. The best way to be up to speed before entering the fray is to read this impressive hardcover from Abrams ComicArts collecting all 66 of the original trading cards from the classic 1962 run from Topps.
Looking through this volume, it's easy to see why the trading cards were considered so controversial upon their release. The imagery is bold and comically violent, with the Martians sparing no one; women, children, even puppies and cows are zapped by ray guns, searing flesh and exposing bones and organs. The violence shifts fluidly between scenes of mass chaos (several international landmarks bite the dust), to very personal scenes of Martians invading bedrooms of sleeping victims.
Every card is painstakingly reproduced, with the back side of the card describing the image and unfolding plot (each card was numbered, telling a portion of a sequential story) featured on the left page, with the art on the right page. Underneath most every image is a bit of behind the scenes information from the Topps archives.
The book itself is cleverly designed, with the dust jacket doubling at the classic wrapping paper the cards were packed in, and a piece of pink gum reproduced on the green hardcover underneath. A nice bonus is the set of trading cards newly designed just for this collection that are placed in the back of the book.
My only gripe with the collection is the small size (5.5 x 1 x 7.1 inches). It's hard to tell if the decision to keep it so small was to simulate the original cards, but this seems like a surefire coffee table book.
Still, this is lovingly put together. Even as someone born well after their first run, I felt pangs of nostalgia flipping through these pages. Definitely worth a look if you're a fan of sci-fi, classic pulp covers, EC Comics, or over the top retro comic book gore.