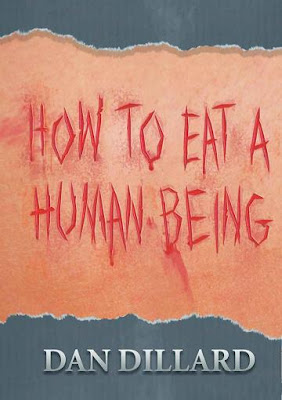 Book Review: How To Eat A Human Being by Dan Dillard
Dan Dillard's How To Eat a Human Being, is a collection of both poetry and short stories. Per usual with his writings, Dillard leads wild ride through the darker side of human nature and introduces seven unforgettable characters and their demons.
Parading with degenerates down a dark and winding path of wickedness, the first stop is dinner with a poetic connoisseur of cannibalistic delicacies in "How To Eat A Human Being," who explains in detail the finer points of human consumption and the best drink to wash it down. Dillard then uses "Refractions" to perhaps explore an extension of his own self, as the main character and name brethren, Daniel is a one hit writer whose popular book stems from a nightmare his wife once had. Little does he or his wife realize that the cliché is very much true and nightmares are real. Between the longer tales of the book, there are terrors stories of children that go hunting for mushrooms never to return in "Snakehead," the haunting curse of "Tenfold," where death follows a young widow after accidently killing his wife in a drunken automobile accident and the tale of a little boy finding a lost dog looking for help in "Strays." Giving anyone who has that little red heart of their license the total creeps, Dillard's "Organ Donors" has a down on his luck paramedic who finds employment with someone who needs fresh body parts- ones that've never been on ice. Lastly, an "Eye For An Eye," a reclusive widowed Amish man is haunted by the ghost of his murdered wife and taunted by the neighborhood kids-pushing him over the edge and to the breaking point of revenge.
Sinister and bleak, the stories carry a realism that chills the spine beneath the weight. Creating sympathetic characters with tangible flaws allows for more investment in their survival, no matter how heavily their peril is foreshadowed. Clever and cleanly written, the stories in How To Eat A Human Being are perfectly organized in a roller coaster of intensity. Dillard has no problem successfully delivering the terror throughout and leaving you gasping for the next tale.