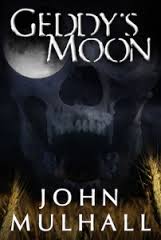 Book Review: Geddy's Moon by John Mulhall
Geddy's Moon is John Mulhall's debut novel, which he began working on over twenty years ago as a teenager. This tidbit of knowledge is extremely important, as all his efforts and years poured into this project definitely paid off tenfold.
Mulhall introduces the reader to Tyler, an amnesiac drifter who has wandered into Getty's Moon looking for work. After finding lodging in town and a job as a farmhand, Tyler tries to rebuild a life for himself. Tyler's efforts to stay under the radar are soon shattered when he drawing suspicion from the Sheriff and catches the eye of a cute single mother who works at the library. Weaving between Tyler's life at present day and his adolescence, as well as switching between reality, dreamscapes, and parallel worlds, Mulhall effectively paints a wonderful coming of age tale sprinkled with dark, foreboding imagery, yet clean and crisp details of a gothic novel. As Tyler's memories start to resurface, he remembers his summer before high school spent with his best friends playing in the woods, the mysterious man who moved in across the street, and the vicious murders that started occurring around his town. Realizing that the measures taken years ago by he and his friends to procure peace have failed, Tyler struggles to prove his innocence and protect his future. The beast of his past, that has continuously haunted his nightmares, is back for vengeance against Tyler and everyone he has come to love.
In a genre flooded by monotonous thrills and an especially lack of monsters, Geddy's Moon towers above the rest; a refreshing and thrilling masterpiece that has just enough gore to satiate your desires. Mulhall's werewolves are the ones that your nightmares are made of – a mash-up of man, bear, wolf with the wisdom and brains of centuries past, as well as an unrelenting animalistic thirst for blood. The detail Mulhall uses to build his characters and storylines establishes an intricate and engaging novel. Literally one of the most fun and exhilarating books I've read in a while. I would most definitely recommend it to any horror fan looking to fill that gap of monsters and beasts in their horror literature.